Jean Arthaud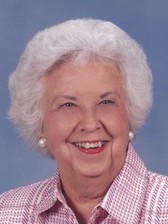 Marjorie Jean Arthaud, 96, died March 27 at the Meyer Care Center in Higginsville, Missouri.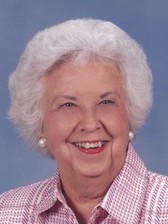 A memorial service will be held on Thursday evening April 20 at the First Baptist Church in Warrensburg. Visitation will start at 6 p.m. and the service at 7 p.m. A private interment will take place later at Edgewood Cemetery in Chillicothe.
Jean was born in Chillicothe, Missouri, on Sept. 22, to Irene Cesar Shiflet and Herman Wallace Shiflet. She was the oldest of four children, Barbara, Mary Louise and Richard died as very young children. She lived in Wheeling until her parents moved to Chillicothe in 1932.
In October 1941, Jean married Charles F. Bakker of Ackley, Iowa. He attended the Naval Academy and graduated from Iowa State University. They had two children, C.F. Bakker, of Atlanta, Georgia, and Carol B. Wilson, of Silver Spring, Maryland.
In October 1952 Jean married Captain Charles Clay Arthaud, USAF, of Chillicothe. He was a highly decorated fighter pilot during WWII and Korea. He preceded her in death on July 24, 1982. They had one daughter, Barbara Lee Grinde, of Warrensburg.
Jean is survived by her two daughters, Carol and Lee; grandson Clay Bakker, of Rogers, Arkansas; granddaughter Elizabeth Bakker, of Fayetteville, Arkansas; grandson Lee Wilson, of Glenside, Pennsylvania; granddaughter Katherine Wilson, of Sydney, Australia; grandson Rob Beckett, of Chillicothe; grandson Phillip Beckett, of Denver, Colorado; and grandson Drake Grinde, of Warrensburg, as well as five great-grandchildren, Sam, Caroline, Teddy, Sean and Silvia.
Jean was very active in various organizations her entire life, beginning in high school. During her high school years she was a member of the band, debate squad, cast member in junior and senior plays, crescent queen candidate, queen of junior class, cheerleader, drama club, choir, and in the national honor society. She also gave public "readings" and played the piano. She graduated in 1938 from Chillicothe High School. She graduated in 1940 from Christian College in Columbia Missouri (now Columbia College) and the Chillicothe Business College (CBC). Jean loved to swing dance. She enjoyed playing bridge and was active in a number of bridge clubs. When she was younger she played golf, traveled including a trip to Europe, stopped to read any historical marker she drove by and was a voracious reader. She enjoyed telling stories of her life experiences, which always had a funny spin. More importantly, Jean enjoyed getting to know people.
Jean was a strong Baptist and always active in church life, particularly as a Sunday School teacher. She was a member of First Baptist Church in Chillicothe for over fifty years. She participated as a youth and adult Vacation Bible School worker, Girls Auxiliary, choir member, adult Sunday School teacher, outreach leader and member of the finance committee and other offices and tasks as needed. She joined First Baptist Church of Warrensburg after moving here and taught adult Sunday School for almost thirty years. For a number of years she regularly taught Bible classes at local nursing homes.
Jean was active in civic affairs and had numerous letters to the editor published in both local papers and the Kansas City Star. She served as the chair of the Chillicothe-Livingston County Bi-Centennial Celebration for three years. She received several national and state awards in recognition. She was on the committee that successfully lobbied for the Baptist Home to be situated in Chillicothe. She was a member of P.E.O., Junior Sorosis, Red Cross, Operation HELP, and was a life-long Democrat. She also served on the boards of the Chillicothe Country Club, the Vo-Tech Training School in Chillicothe, Edgewood Cemetery in Chillicothe, and the Missouri State Prison for Women. She was active in senior citizen organizations, Livingston County Historical Society, and a member of ACBL bridge association.
Jean worked outside the home on numerous occasions. She was employed by the University of Missouri Extension Office in Warrensburg; Blyther Income Tax Services in Camden, South Carolina; John Hancock Farm Loan Division in Chillicothe; and retired from Donaldson Company in Chillicothe.
In lieu of flowers, memorial donations are suggested for a program that Jean was personally active in and supported: Manna Harvest of Shiloh Missionary Baptist Church in Warrensburg. This program, whose volunteers come from many churches and organizations, provides regular meals for hungry people in the Warrensburg area.