Garret Fugate readies himself for Chiefs' local pro day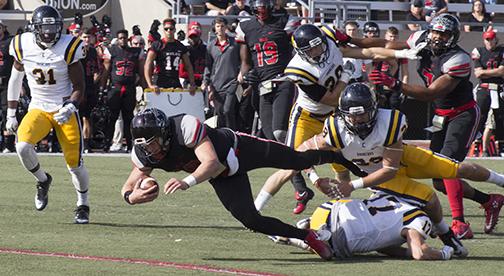 By JACOB WOERTHER
Sports Editor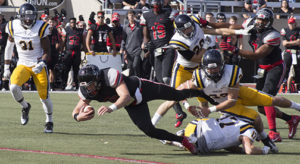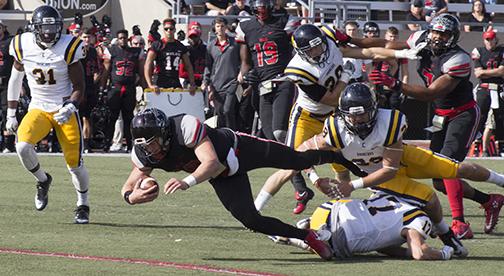 (WARRENSBURG, Mo., digitalBURG) — A former UCM football quarterback is getting a chance to work out with the Kansas City Chiefs.
While Garrett Fugate prepares to make a favorable impression with the Chiefs at their upcoming local pro day April 7, he is following in the footsteps of someone who has been less than favorable to the Chiefs: Denver Broncos starting quarterback Trevor Siemian.
Like Siemian, Fugate tore his ACL on the tail end of an outstanding senior season. In Fugate's last season as a Mule, he threw for 3,655 yards and 32 touchdowns. Although the injury proved to be a setback for his future in football, Fugate nonetheless received an invitation to workout with the Chiefs on their 2017 local pro day.
"I want to go in and have fun and show them what I can do," Fugate said in a phone interview. "It's a really exciting opportunity and not a lot of people get (to attend)."
Fugate said the first step to his potential professional career was the rehabilitation of his knee. He spent the months following his injury at a local physical therapist with the hopes of rebuilding his strength to the point that he could compete on a professional level.
Over the past four weeks, Fugate followed the advice of his agent and began a more aggressive approach to rehab that included him moving to New Jersey.
Fugate's agent also represented Siemian following his departure from Northwestern. Siemian, like Fugate, suffered an ACL tear during his senior season and faced a long road to recovery that jeopardized his chance of playing professionally.
The agent encouraged Siemian to move to New Jersey and rehabilitate at Parabolic Rehabilitation, a facility specifically designed to rehabilitate and train professional athletes. The move and rehab process proved to be worthwhile for Siemian as he went on to get drafted by the Broncos the following April.
After the success Siemian found with Parabolic Rehabilitation, Fugate's agent encouraged him to follow the same path.
Since uprooting from his Kansas City home, Fugate has undergone a month of rehabilitation in New Jersey and has remained optimistic about his recovery.
"(Rehabilitation) is coming along really well and I'm excited to see what happens in the next few months," the second team All-MIAA quarterback explained. "Once it's healed, I don't think it'll hinder me at all."
Fugate emphasized that his recovery was essential because he had a lot to offer potential teams due to his distinct advantage over his competition.
"Coach (John) McMenamin and coach (Jim) Svoboda gave me a lot of freedom (during games)," Fugate said. "I called a lot of the plays and got to make a lot of checks. I think that will help me because a lot of college players don't get to do that. So, I'm more advanced in that aspect."
While scouts and coaches have the opportunity to view Fugate's abilities through his highlight package, Fugate said highlight videos have their limitations. He said teams need to see him in a pro day type of setting to really understand what type of player he is.
"My competitive drive is one thing that a scout wouldn't be able to see just on film," Fugate said. "(Or) how hard I work in the weight room and the film room."
Fugate will have the opportunity to show the Chiefs exactly the kind player he is in just over a week, but until then he will continue to focus on his recovery and training.
Although Fugate is excited for the opportunity, he said he'll miss his time playing at UCM.
"It was a great a four and a half years, but it went by faster than I could've ever imagined and I miss it already."