Jennies Bowling wins inaugural MIAA Bowling Championship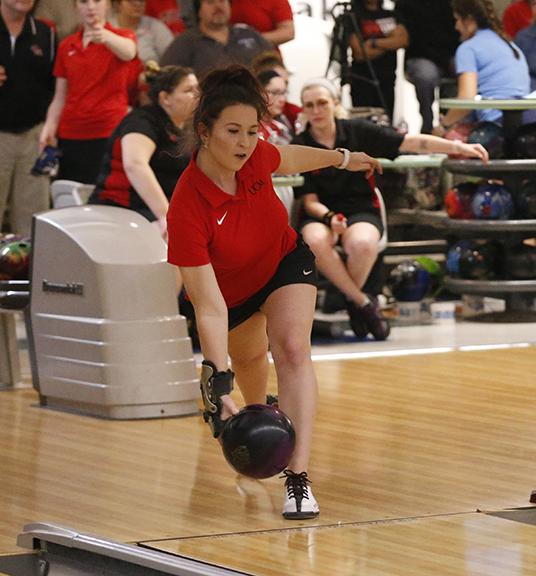 By JACOB WOERTHER
Sports Editor
(WARRENSBURG, Mo., digitalBURG) — After losing their first game and facing elimination in the consolation bracket, Jennies bowling rallied their way back into the championship to win the first MIAA Bowling Championship Tournament last weekend at KC Bowl.
The Jennies entered the tournament as the No. 2 seed and earned a first-round bye. In their first contest of the tournament, the Jens faced off against the Elmhurst Bluejays who advanced via a win over Lincoln. The Jennies and Bluejays split the first two games of the seven-game series, but the Jens took control in the following games and emerged with a 4-2 victory.
The No. 1 seed McKendree Bearcats defeated Maryville to meet the Jennies in the next round. The Jennies took an early lead in the series with a 211-192 victory in game one, but failed to pick up another victory until game five. The Bearcats sealed their 4-2 victory over the Jens with a 239-235 win in game-six.
The loss placed the Jennies in the consolation bracket where they played Drury for a chance to try their luck against McKendree again in the semifinals. The Panthers picked up the first victory, outscoring the Jens 160-158. The Jennies, however, bounced back and picked up four consecutive victories to punch their ticket to the semifinals.
In order for the Jennies to win the tournament they needed to defeat the Bearcats in both the semifinals and championship series. In the semifinal matchup, the Jens had a hot start and strung together three victories. The Bearcats responded with two wins of their own, forcing game seven. The Bearcats bowled their worst game of the series in game-seven and the Jennies clinched the series with a 191-154 victory.
The final series between the Jennies and Bearcats was exactly what one would hope for in the MIAA's first championship series: a back-and-forth series that stretched over seven games.
The Jennies struck first with 212-183 victory, but the Bearcats responded and defeated the Jens 193-188 in game two. Neither team could put together consecutive wins and the series extended to game seven following a 213-181 win from the Bearcats in game six. The final game of the series proved to be the closest, with the Jennies narrowly defeating McKendree 169-165 and earning the right to be called the first MIAA Bowling Champions.
Sophomore Brianna Zimmerman was named most outstanding player of the tournament.
The Jennies will now move on to the NCAA Bowling tournament April 13-15 in Baton Rouge, Louisiana.