By JACOB WOERTHER
Sports Editor
(WARRENSBURG, Mo., digitalBURG) — Fans of Jennies basketball witnessed a season of fourth-quarter performances during which the team outscored opponents 552-385 and mounted six fourth-quarter comebacks. Although the Jens excelled in the final quarter this season and built an expectation of fantastic finishes, their March 11 game against Harding was a heart-breaking exception to this expectation.
The Jennies led the Bison headed into the final quarter of the NCAA Central Region semifinal, but allowed Harding to run away with the game with a 13-2 run to conclude the Jennies' season.
The game got off to a quick start and the lead changed hands four times in the first two minutes. The Bison tied the game twice in the final two minutes of the quarter, but a jumper from Megan Skaggs gave the Mules a 22-19 lead going into the second.
Story continues below advertisement
The Jennies didn't score again until nearly midway through the second quarter when Paige Redmond hit a three-pointer giving the Jens a five-point lead, their largest of the game. The Bison responded and tied the game at 25-all following a three-pointer from Falan Miller with 4:15 left in the half. The Jennies briefly regained the lead thanks to a layup from Redmond, but Harding entered halftime with a 32-29 lead over the Jens.
The Bison pulled out to an eight-point lead with 6:48 left in the third the quarter, but the Jennies went on a 14-4 spurt that put them on top 45-43 heading into the fourth.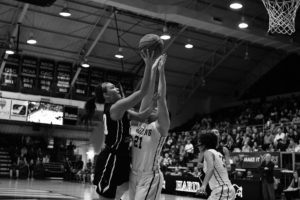 Megan Skaggs drained a three to give the Jennies a 56-53 lead with 4:27 left in the game, but a pair of free throws and a fastbreak layup put the Bison back on top. An Ashley Duffy layup brought the Jens within a basket with 1:27 remaining. The Jennies, however, went 0-for-3 outside the arc on the following possessions and the Bison punched their ticket to the regional finals with a series of free throws.
Three Jennies ended their final game in double-digit scoring. Skaggs led the Jennies with 20 points, Redmond finished with 13 and Kayonna Lee put up 10.
Redmond's 13 points pushed her season total to 503, making her just the third Jennie in the last 18 years to have a 500-point season. Lee ended the season with 273 rebounds, just 12 shy of claiming a spot in the Jennies top-10 single-season rebounders.
The Jennies finished the season 24-7 overall and 15-4 in the conference. Their 24 wins ties them for the second most wins in the Dave Slifer era.