Mules end season with 69-61 loss in MIAA Tournament Championship
By JACOB WOERTHER
Sports Editor
(KANSAS CITY, Mo., digitalBURG) — Mules basketball fell to their conference rival, the Northwest Missouri Bearcats, in Sunday's MIAA Championship game in Kansas City, Missouri.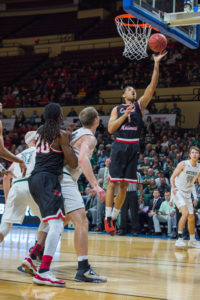 The Mules came into the championship 21-8 on the season. After earning a bye in the first round of the tournament, they defeated Nebraska-Kearny and Central Oklahoma to advance to the championship game.
While the Mules had a pair of impressive showings in the early rounds of the tournament, they struggled against the Northwest offense led by MIAA Player of the Year Justin Pitts. Pitts went 11-21 from the field, 2-7 outside the arc and scored 26 points.
The Mules pulled ahead with a five-point lead in the first four minutes of the game courtesy of a Spencer Reaves three-pointer and a layup from DJ Richardson. Northwest wasted little time responding and a dunk from Chris-Ebou Ndow tied the game up at 11.
The lead changed hands five times over the following possessions, but back-to-back threes from Pitts and Zach Schneider jump-started a 25-11 run that put the Bearcats up 40-28 headed into halftime.
Marquiez Lawrence drained a jumper coming out of halftime bringing the Mules within 10 of the Bearcats. The Bearcats, however, went on a 19-6 spurt that gave them a 23-point lead, their largest lead of the contest.
Although they trailed by a monstrous deficit with 13:00 left in the game, head coach Doug Karleskint and the Mules proved they were not ready to give up their season.  A triple from Reaves provided some new life for the Mules and kick-started a 19-7 run that brought UCM back within 11 with 1:58 remaining.
Although the Mules found their second wind, their run came too late in the game and the Bearcats ran the final two minutes off the clock to seal the victory.
Reaves scored a team-high 15 points and Kyle Wolf scored 12. Lawrence ended the day just one rebound short of a double-double with 11 points and nine rebounds.
Pitts' performance marked his 17th game with 20 or more points this season. Brett Dougherty and Ryan Welty were the next highest scorers for the Bearcats with nine points apiece. Welty had 10 rebounds and Dougherty finished with seven.
The Mules trip to the MIAA Tournament Championship was their first appearance in the final game since the 2012-2013 season during which the Mules defeated the Bearcats in overtime to claim the top spot in the MIAA.