KCP&L adds electric car charging stations
By STEVEN SPEARS
Managing Editor
(WARRENSBURG, Mo., digitalBURG) — Faculty, staff and students can now charge their electric cars on campus for free.
UCM partnered with Kansas City Power & Light over winter break to install eight CT 4000 ChargePoint charging stations in parking lots around campus, according to a university news release. Three of the charging stations are in Lot 18 near Planet Sub, two are in Lot 14 outside The Crossing – South at Holden, and three more are in the newly constructed Lot 13 along Washington Street. Each station can charge two vehicles at once, according to the news release.
Chris Bamman, director of Facilities Planning and Operations, said KCP&L approached him with the opportunity to add electric car charging stations to campus at no cost to the university. He said KCP&L chose UCM because its status as a top-tier customer in the region due to the amount of electricity consumed each year.
Kristin Riggins, KCP&L's sustainability products manager, said the charging stations are part of a pilot program for all KCP&L jurisdictions. The program will measure the economic and environmental impacts of the vehicle charging stations. She said the company currently has approximately 800 stations in the ground with 200 more on the way.
"We wanted it to be large enough to be impactful but not oversized from a budget perspective," Riggins said.
Mike Papasifakis, parking services sergeant for the UCM Department of Public Safety, said the placement of the charging stations was decided based on the current usage of each lot and the ease of hooking them up to the electrical grid.
Papasifakis said there are no immediate plans to add more charging stations, but it is a possibility in the future.
"We are always looking," he said. "We don't know that that's going to be a for sure thing but it's always something we're looking at. It's never off the table. These may be the only eight we ever get or we may get more. We'll see how things go."
Papasifakis said although there are eight charging stations, only one individual has an electric car registered with Public Safety.
"Not to say there are not more," he said. "But (during registration) people just aren't checking that box or we only have one."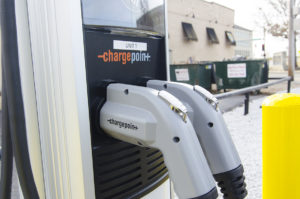 Papasifakis said KCP&L, in cooperation with vehicle manufacturer Nissan, paid for the cost of construction, installation and will take care of any future maintenance fees. He said the stations are currently free to use.
"There could be a charge for them in the future," Papasifakis said. "Again, that would be through KCP&L or Nissan. It would have nothing to do with (UCM), we wouldn't charge for them. Basically you'd be paying for electricity – paying KCP&L for that – if they decide to charge for those in the future."
Riggins said there are plans to start charging in the future, but KCP&L would give UCM the option to pay for those costs instead of them falling to the users.
"We are working with our regulatory commissions right now in our other service jurisdictions to develop a rate to be able to charge drivers," she said.
Signage posted by the charging stations say individuals can use a ChargePoint card, contactless credit card or other approved options to activate the stations. Riggins said users have to register with KCP&L before they are able to use the stations. Once registered, people will be able to access the stations through an application on their phones.
The stations are open to residents of Warrensburg not affiliated with the university as they are the only public charging stations in the city, according to the news release.