Blakk Rasta: 'African problems need African solutions'
By JACQUE FLANAGAN
Design and Layout Editor
(WARRENSBURG, Mo., digitalBURG) — 1922 – A red sun blazes over open plains. In town, an alarm bellows out from speakers across South Africa, the first of many to come from Dutch colonists. The next wave of radio technology wouldn't be for another five years in Kenya. It'd be 10 more after that until house-to-house broadcasting would be introduced to Ghana.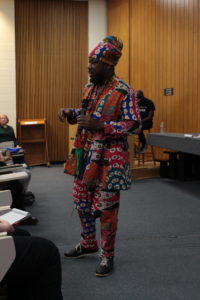 The installation of radio stations was a pivotal moment for Ghana, as radio would later be utilized as a key tool in the Pan-African movement. This was the topic of conversation for University of Central Missouri visitor, Blakk Rasta, a Ghanaian activist and reggae artist.
When Rasta came to campus Jan. 19-26, he visited 29 classrooms, lectured and performed a reggae concert to promote his new album.
Rasta's visit was orchestrated by Catherine Burris, director of religious studies, in conjunction with the music department, Africana studies and the International Center for Multiculturalism and Inclusivity. Burris said the department was looking for its next big step when she was approached by Albion Mends, an instructor in her department, who suggested Rasta.
"We were looking for a way to emphasize that religious studies is and has to be multidiscipline and multicultural," Burris said. "You really can't study any of the traditions we cover without knowing their cultural context."
Burris said she reached out to teachers who would be interested in incorporating Rasta into their coursework. She said she was met with responses from the communications, political science, sociology, gender studies, English as a second language and religious studies departments.
After Rasta's arrival they were able to narrow down discussion topics for his class visits and lecture. Topics included poverty alleviation, religion, mental slavery, corruption, proverbial Africa, and Rasta compared to Reggae music.
"We were looking for an African perspective and a postcolonial perspective," Burris said.
"We were able to expand that event with environmental issues plus ways of communication and figures of speech in Africa."
Burris hosted Rasta's lecture "Radio as the Most Important Tool of Activism in Africa" Wednesday, Jan. 25. His lecture started with the introduction of radio to Africa and described the impact it has made in African communities.
Rasta said the popularity of radio in Africa is largely due to poverty and illiteracy. Africans are unable to afford televisions and most aren't educated enough to read newspapers. Rasta said radio's popularity is also founded on the content of programs, as there has been a shift in radio content from colonial to African culture in the past few decades.
"I've always been a very passionate person. I've always asked questions, I've always loved to find out why this is happening, what can be done," Rasta said. "From a very young age I always asked, 'Why does everyone want to go to America, to England? Why is everybody running away from Africa?'"
As an activist, Rasta said he uses his radio station to bring awareness to pertinent issues that affect Ghanaians. He said he covers topics such as female genital mutilation, diseases like the guinea worm and pollution.
During his lecture, Rasta discussed the poor living conditions Africans face. He emphasized his point during the lecture saying that a politician once encouraged Ghanaians to defecate on the beaches in order to make the fish fatter for eating. Rasta said the politician's misguided and uneducated direction only made the conditions worse.


He closed his lecture with a call to action and recommended students build more radios to help Ghana and the Pan-African movement, a prominent movement in Africa that encourages Africans home and abroad to come together under an umbrella of unity and solidarity.
Rasta said the movement aided in the promotion of Afro-centrism, a state of mind in which Africans love their identity and are not ashamed of their culture.
"What I consider as one of my biggest achievements as a Pan-African is when we've been able to get out to the people to stand up for their own identities and accept their African names. It is one of the things I call my high," Rasta said. "In Ghana some time ago everyone was a Sophia, a Barbara, a Jackie, a Thomas, a Samuel, Jonas. When you ask them they would say 'That is my Christian name.' And I ask 'What is that? A Christian name?' These are European names. They are colonial names. They are slave names."
Rasta said his ideal Africa is one that is self-reliant and debt-free. He said he believes African problems need African solutions and hopes to return to great African days like Mansa Musa, where people would visit and shake because there is so much power.
"It's an issue of ignorance, an issue of education, but you don't tell the people that they are being ignorant because it is activism," Rasta said. "When you're an activist you must understand your role and your role is not to attack, your role is to advocate."
Rasta's visit came to a close Saturday, Feb. 28, with a free concert that featured music from his new album, Kochuko Revolution. His performance was accompanied by UCM's ABC Gospel Choir with help from the music department.
Burris said the series happened because of financial assistance from the Office of Student Activities, the Honors College and the Performing Arts Series.
"It's the kind of event we have been able to do, with the new budget cuts I don't know how many more we'll be able to do, but we'll certainly keep trying," Burris said.
Video contribution by Lauren Koske, Kaitlin Brothers and Matt Butler.