Wallace Dale Collett
Wallace Dale Collett, 86, of Warrensburg, Missouri, died Sunday, Dec. 25, at Meyer Care Center in Higginsville.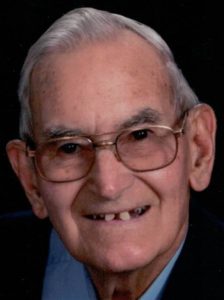 Funeral services are scheduled for 2 p.m. Wednesday, Dec. 28, at Northside Christian Church with Pastor Sid Tiller officiating. Interment will follow in Warrensburg Memorial Gardens Cemetery with full military honors. Pallbearers will be Loyd Bell, Gary Curtis, Bob Thoman, Ernie Courtwright, Roger Deuschle and Larry Shinkle. Honorary pallbearers will be Dr. Stuart Smith, Dan Curtis, John Sartin, Ray Espey, Gene Bell and Bill Bell. The family will receive friends from 6-8 p.m. Tuesday, Dec. 27, at the church.
He was born Nov. 1, 1930, in Johnson County, Missouri, the son of Charles and Malinda (Graham) Collett.
He and Sallie Brauer were united in marriage on March 2, 1952, in Warrensburg.
Wallace served in the U.S. Army during the Korean War. He worked as a farmer and as a rural mail carrier.
He was a founding member of Northside Christian Church in Warrensburg where he has served as an elder and elder emeritus ever since. He served many years as a delegate representing MFA Oil. He was also a Johnson County committeeman for Farm Service Agency.
Wallace is survived by two sons, Aaron Ray Collett and wife, Colette; and Donald Collett and wife, Kari, all of Warrensburg; a daughter, Lynette Corbett and husband, Jeff, of Knob Noster; four grandsons, Curtis Collett and wife, Tabbatha; Rylan Collett, Clayton Corbett, and Dylan Collett; three granddaughters, Rachael Teaney and husband, JJ; Emily Collett, and Bailey Robinson and husband, Loyd; two great-granddaughters, Nora Teaney and Emmalene Collett; and a great-grandson, Hunter Robinson.
He was preceded in death by his parents, and his wife, Sallie Collett, on Sept. 16, 2015.
In lieu of flowers, memorial contributions are suggested to the Northside Christian Church Building Fund or the Show-Me Christian Youth Home and can be left in care of Sweeney-Phillips & Holdren Funeral Home.