By MULESKINNER STAFF
(ALLENDALE, Mich.) — The Jennies soccer team's postseason run ended Sunday with a 3-1 loss to Grand Valley State in the National Quarterfinals of the NCAA-II Women's Soccer Tournament Sunday afternoon.
The third-ranked Central Missouri Jennies soccer team finished the season as MIAA regular season and tournament champions, and Central Region champions.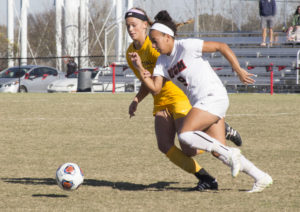 Hannah Pyle scored the lone goal for the Jennies in the second half. Ana Dilkes collected eight saves in 18 shots faced and finished the season with a 21-2 record and posted a single season-high 16 shutouts.
Story continues below advertisement
The Lakers controlled the pace in the first half as they outshot the Jennies 11-3 overall and 7-1 in shots on goal. They found the back on the net in the 25th minute when Marti Corby sent a shot from the left side that curved and bounced off the right post into the net.
The Lakers pushed their lead to 2-0 three minutes later, when Gabriella Mencotti scored in the 28th minute off an assist from Jayma Martin. Martin sent her pass from the left end line into the middle of the box, where Mencotti popped her shot off her left foot just past Dilkes' reach.
The Lakers continued to push the offensive pace in the second half. They extended their lead to 3-0 in the 49th minute off a goal from Martin. She took a pass from Corby inside the box and beat Dilkes on the shot.
The Jennies got on the board in the 66th minute when Pyle hit her shot from 30 yards out into the high middle part of the net past the goalkeeper's reach.
Pyle's goal is the 36th of her career, which is the fourth most all-time in program history. Her career point total moved up to 92, which is the second most all-time in program history. Pyle finished in the top 10 in program history in points, goals and assists. Her 20 career assists is the fourth most in program history.
Offensively, the Jennies finished with 16 shots total and eight shots on goal.
Defensively, the Jennies the allowed 18 total shots, 11 shots on goal, and three goals. For the season, the Jennies finished with 18 shutouts, which is the most in program history in a single season. Their seven goals allowed is also tied for the fewest amount in a season in MIAA history with Truman State, which allowed seven in the 1999.