One arrested after driving through crowd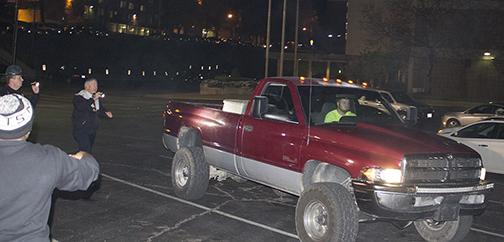 By STEVEN SPEARS
Managing Editor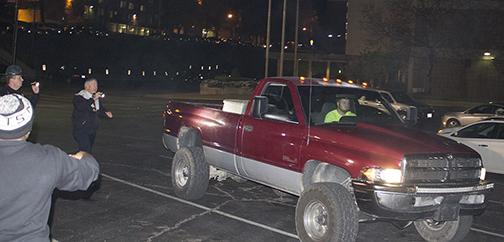 (WARRENSBURG, Mo., digitalBURG) — One person was arrested in relation to incidents that occurred during an otherwise peaceful protest of President-elect Donald Trump Thursday, Nov. 10, on campus.
Nathan D. Leavy, 21, of Warrensburg, was arrested on charges Monday, Nov. 14, of careless and imprudent driving, assault and battery, obstruction, failure to obey and resisting. Leavy was released on summons the same day.
A maroon Dodge pickup truck drove into a group of student-protesters who were using the crosswalk at the corner of Clark and Holden streets at approximately 6:50 p.m. Nov. 10, according to a UCM Public Safety incident report. The truck, while surrounded by pedestrians trying to cross the road, accelerated in an unsafe manner to the north away from the group, according to the report.
Tameka Poppars, senior criminal justice major, said the driver tried driving through the group of protestors before flicking a cigarette at a student.
"He tried to go through the crowd with his truck," Poppars said. "He did not want to stop and let the protestors walk past. He kept pushing on the gas, trying to hit the students with his truck."
The same truck followed protestors to UCM Parking Lot 33 near the Multipurpose Building and, with another truck, did doughnuts around the protestors at 6:56 p.m. before being chased away by Public Safety officers on foot. Scott Rhoad, director of UCM Public Safety, said no injuries were reported.
One person reported pushing her hand against the truck's front grill and hopping back to avoid being struck, according to the report. Individuals in the crowd started running to get out of the truck's path, knocking two people down in the panic, according to the report.
Bill Brinkley, assistant director of Public Safety, said in the report he observed a suspect, later identified as Leavy, driving the truck and fleeing the scene south on Warren Street.
Sgt. Scott Lewis contacted Leavy at 8:38 a.m. Nov. 14, at the Warrensburg Police Department and placed him under arrest.
Another individual has been questioned regarding the incident, according to a UCM News Bureau email. Neither individual is a UCM student, but they have both been banned from campus, according to the email.
Leavy is scheduled to appear in Warrensburg municipal court at 9 a.m. Dec. 13.
Anyone with information about the incidents should contact Public Safety at 660-543-4123.