Faces of UCM: Ashley Garrard
By DENISE ELAM
Features Editor
(WARRENSBURG, Mo., digitalBURG.com) — Before Ashley Garrard was crowned homecoming queen, she became the vice president of finance for the American Marketing Association, joined four honors societies and became a McNair Scholar.
Garrard said when she was an incoming freshman, she just wanted to study abroad. So she did. Four times.
"My goal is always just to do the best I can and that's all. And I keep one-upping myself," Garrard said. "But I think that helps me not get stressed. Because if you do the best you can every single day and you put 100 percent into everything you do, it's all you can do."
Garrard is a senior economics major at UCM with a minor in mathematics. She is involved with the Student Government Association, the Honors College and Sigma Kappa. She has studied abroad in the Netherlands, Croatia, Cuba and China. She said her best experiences at UCM so far really depend on the year.
"When I was a sophomore, I studied abroad and that was probably so impactful to my entire life that I can't even describe," Garrard said. "And then my junior year, I would say when I became a McNair Scholar, that was pretty impactful. Just realizing that I can go to grad school as a first generation low income college student and doing research. And then this year, really getting involved with my sorority and becoming the homecoming candidate and becoming homecoming queen, that was pretty cool."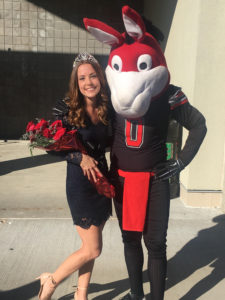 Garrard said she has tried to take a step back to really enjoy her last year at UCM, but it's been difficult.
"Honestly, when they asked me to be the homecoming candidate for Sigma Kappa I said 'No,'" she said. "I was like, 'No, why would I do that?'"
Garrard eventually decided to do it.
"I always say, 'Well, if you're going to do something you might as well do it right,'" Garrard said. "And that goes for anything, you know?"
Garrard has applied to 10 different doctoral programs. She said she also sent an application to be a Rhodes Scholar at Oxford University in England, but she wasn't a finalist for that scholarship.
Kari Azevedo, academic coordinator for the McNair Scholars Program, said she first met Garrard when she was a student in her GRE graduate school test preparatory class.
"The first thing I noticed when she was in my class was that she was always asking questions and she wants to know things and she has just a natural curiosity," Azevedo said. "And she's not shy or bashful to actually go after answers for things, so if she wants to know something she's gonna' figure it out and I think that that's really great and it serves her really well because she just gets stuff done that way."
Azevedo said Garrard finished her McNair summer research in advance to attend the National Ronald E. McNair Scholars Symposium during the summer of 2016.
"She started talking to me about that Berkely conference almost a year before – even before she was a McNair scholar she was interested in that and saw that that was a thing," Azevedo said. "She just kind of figures out what needs to be done and then she plans it out and does everything like on her schedule and it works. It works for her."
Garrard said she has an idea of what life will look like after graduation.
"After I get my Ph.D., I'm open to becoming a professor. I'm open to getting a job, wherever life takes me," Garrard said. "I like traveling so I wanna incorporate that somehow."
For now, she works as a research assistant in the Administration Building as she waits to hear back on her 10 doctoral program applications. She graduates May of 2017.
"I have no idea what I'm doing,"Garrard said. "Well, I have an idea.. but it's all up in the air until I know."