Bryan Brown
Retired CMSgt. Bryan David Brown, 58, of Knob Noster, passed died Saturday, November 5, at the St. Luke's Hospice House in Kansas City after a battle against Glioblastoma brain cancer.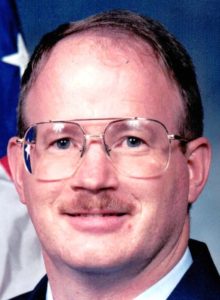 Memorial services will be held Wednesday, November 9, at 11 a.m. at Sweeney-Phillips & Holdren Funeral Home. Full military honors will be provided by the Patriot Guard Riders and the Whiteman AFB Color Guard. Inurnment will follow in the columbarium wall in Missouri Veterans Cemetery in Higginsville. The family will receive friends from 10 a.m. until service time Wednesday at the funeral home.
Memorial contributions are suggested to the National Brain Tumor Society and can be left in care of the funeral home.
He was born June 12, 1958 in Jackson, Mississippi, the son of Joyce Leslie and Laura Lee (Hoisington) Brown.
On October 21, 1978, in Ironwood, Mississippi, he and Bonnie Jeanette Heilig were united in marriage. She survives at the home.
CMSgt Brown graduated from Alpena High School in May of 1977 and then joined the US Air Force in September, 1977. CMSgt. Brown was assigned to: Hurlburt Field, FL; Kunsan AB, Republic of Korea; Mountain Home AFB, Idaho; Wurtsmith AFB, MI; Hill AFB, Utah; Misawa AB, Japan and finally, Whiteman AFB , MO. CMSgt. Brown received multiple medals, awards, commendations, and rapid promotions. He was known for his leadership and drive for perfection. He performed combat operations during the Iranian Hostage Crisis, The defense of South Korea, The Cold War nuclear alert, Desert Shield, Desert Storm, Southern Watch, Enduring Freedom, and Iraqi Freedom.
Bryan achieved a Bachelor's degree in Human Resource Management at Park College and a Masters Degree in Management and Leadership/Human Resource Development at Webster University. CMSgt. Brown was a member of Air Force Sergeants Assoc., Whiteman's Chief's Group, Aircraft Armament Chief's Group, and a former member of the VFW. After his retirement from the military, Bryan worked at the Royal Oaks Golf Course doing maintenance and groundskeeping.
Although his military career made many demands on Bryan's time, his family was the center of his life. Bryan's other interests included a lifelong love of sports especially for the Detroit Tigers, Detroit Lions, and the Kansas City Royals. He also loved to play golf, bowl, camp, listen to music and dance. In addition, he was an all-around "handyman".
Surviving Chief Brown are his wife, Bonnie; three daughters, Breanna Lee Bonsavage and husband, Peter, of Salt Lake City, Utah, Meghan Ashley Hawkins and husband, Steven, of Chatham, Illinois, and Tina Hope Howitt and husband, Joshua, of Kansas City, Missouri; two sisters, Jennifer M. Brown and Angela R. Noble and husband, Mike, of Bellaire, Mississippi; four grandchildren, Graian and Benjamin Bonsavage, and Jaelynn and Harlee Hawkins.
He was preceded in death by his parents, two brothers, Michael and Vince Brown, and one brother and two sisters in infancy, Mitchell, Laura, and Josanna Brown.