Killin' it on and off the court
By MORGAN  BELLMER
Reporter
(WARRENSBURG, Mo., digitalBURG) — With the injuries sustained by the UCM Jennies volleyball team this season, junior Molly Lawrence has had to juggle a variety of hitting positions.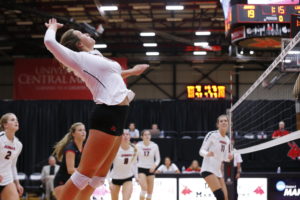 "Molly has played all three front row positions for us, in some matches she has been an outside hitter, some a middle hitter and some a right front hitter," said head coach Flip Piontek. "I know those all sound like just hitter positions, but each is really distinct and different, and her ability to play all of those positions is terrific."
Lawrence has racked up 164 kills and a team-high 45 blocks so far this season, and she doesn't seem to be slowing down. In the Jens most recent effort against Southwest Baptist University Saturday, Oct. 15, Lawrence was the only Jennie with double-digit kills, totaling 12 with four per set. The Jens went on to conquer Southwest, sweeping the series 3-0.
Lawrence, a nursing major from Bloomington, Illinois, was a redshirt her freshman year and then worked to become the starting player she is now. Piontek said the strength of Lawrence's character and her versatility on the court are valuable traits to have in a player.
"The fact that she likes the school enough, likes the nursing program enough, and likes the volleyball team enough to stay and to stay focused for three years to get to where she is… it's kind of a remarkable thing, not many players do that anymore," Piontek said. "The strength of her commitment to our program is the strength of what Molly does."
Maddie Jones, senior middle hitter, said as a player Lawrence has come a long way.
"She's kind of gotten thrown into different positions, and she's just always ready to go whenever we need her, and wherever we need her," Jones said. "Seeing her come from freshman year to now, it's been cool to watch the progress and see how she develops on the court."
Anyone who watches Jennies volleyball or reads the details about the game afterward can tell Lawrence is a great player on the court, but what is she like off it?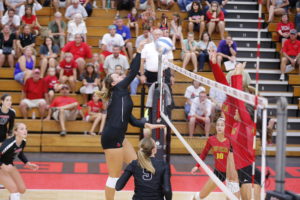 Jones said Lawrence is a fun-loving, easy-going person when she's not battling it out on the court.
"She's definitely one of the easiest people on the team to get along with and I think that helps us on the court because we can all connect with her on different levels, and if you ever need somebody to talk to she's always there for anybody," Jones said.
When Lawrence isn't busy on the court or in the classroom, she said she enjoys watching sports – especially rooting for her home-state Chicago Cubs.
"I'm a huge sports fan," Lawrence said. "Right now I'm just really obsessed with the Cubs because they're winning. So I love watching Chicago sports."
Lawrence said she is a family person, relying heavily on her twin sister for support.
"My freshman year I came here with my twin sister, and she no longer goes here," she said. "Now that we're at different (schools), we still communicate and I help her get through her life and she helps me get through mine."
Lawrence said, being from Illinois, she doesn't get to see her family very often.
"But when they do come and visit, or when I visit them, it's even more special because it's not all the time," she said.
Lawrence said her biggest influence is her cousin, who has helped her become the person she is today.
"I have a cousin who was paralyzed from the waist down from a CrossFit competition two years ago, but has worked hard and still works out," she said.
Lawrence said her cousin's perseverance helps her stay motivated.
"There are times when I feel lazy and don't want to do anything, or run, or condition … so it motivates me to remember your legs and your ability to do this stuff is a gift."
Lawrence and the Jennies return to the Multipurpose Building for a pair of rematches on homecoming weekend. The Jens face Fort Hays State at 7 p.m. Friday, Oct. 21, followed by a match against Nebraska-Kearney at 7 p.m. Saturday, Oct. 22.
Lawrence will try to have a repeat of her performance against Fort Hays State, as she earned a season-high 13 kills in that matchup.