Student volunteers help campus, community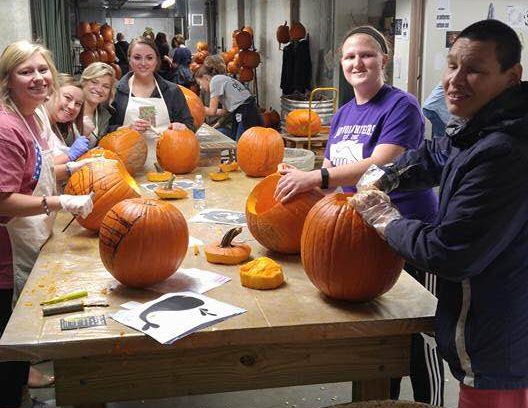 By JESSICA FRASER
Reporter
(WARRENSBURG, Mo., digitalBURG) — When Robert Rourke attended his first MO Volunteers meeting, he never imagined he would become a part of its executive board. As the current president, Rourke said he enjoys working with other students and serving the Warrensburg community.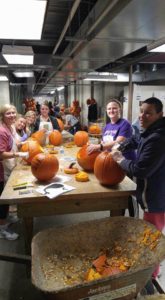 "I actually went because I was trying to get dinner with a friend and he was going, so then I showed up and sat through the meeting," Rourke said. "I liked the executive members, I liked their mission, and I liked volunteering so I figured I'd hang out…I liked having a say over what events we could do, talking to members, and getting to know people more. It's kind of an accident that I joined, but I'm really glad that I got into it."
As an active volunteer, Rourke works with other students and local nonprofits to make a difference in his community. The UCM Volunteer Services Office helps students like Rourke find service opportunities.
"Our mission is to engage our students, faculty and staff in service projects and volunteer opportunities," said Kristie Brinkley, assistant director of Student Activities. "It's to help them learn how to engage academically, as well as doing service, and to learn to balance between the two."
Brinkley said approximately 1,500 students participate in volunteer service events each year. From dedicated service days to long-term assignments, Brinkley said volunteer services has plenty of events that students can take part in.
"We have what is called Volunteer Mo Monthly where we coordinate a service project and invite people to join that," Brinkley said. "We've initiated a new one this year called Stop and Serve. Once a month we have a table somewhere here on campus and we'd like you to stop on your way to class and serve."
Brinkley said volunteer services also connects students with local organizations that need more volunteers.
"We work with entities that are in our community, for example Big Brothers Big Sisters, Survival House, Warrensburg Parks and Recreation…there's a large variety," Brinkley said.
Stormy Taylor, executive director of Big Brothers Big Sisters of Johnson County, said UCM students have helped her organization carry out its mission of providing friendship and guidance to children in their communities.
"We use lots of student volunteers," Taylor said. "We have some students that are matched up as 'bigs' in our program, so they're either a big sister or a big brother in our program. Those volunteers see their 'littles' once a week for two to four hours, and they go on outings with those kids, whether it is going to the park, spending time together, making crafts or shooting hoops. We have other volunteers from the university who have done parties for the kids…we've also had some students who have come and worked in the office."
Taylor said she would love to work with more student volunteers.
"I would encourage students to volunteer because it really helps them get a good feel for giving back to the community," Taylor said. "As a student, sometimes people forget that they're more than just a part of the university: they're part of the Warrensburg community. We invite them and encourage them to be a part of all the events that take place here."
In addition to local organizations, volunteer services works with larger nonprofits to send students to other states. Alternate Spring Break is one of those projects. Every year, students travel across the country to build homes for families in need.
"We've gone to Chicago in the past. We've gone a couple times to Arkansas. Last year we went to Texas. This year we haven't quite decided yet but Mississippi and Salem are looking like possibilities," said Megan Fitzgerald, president of UCM Spring Breakers. "We want to make sure we go somewhere different for them to experience, because it is our spring break so we want to have a good time while we're helping people out."
Fitzgerald said volunteer services works with Habitat for Humanity to send students to Alternate Spring Break to build homes for the underprivileged. After multiple trips with the Breakers, Fitzgerald said she has seen the impact their service has had on impoverished communities.
"In the past we've actually gotten to meet the families that we were helping, so we see how it affects them," Fitzgerald said. "Last year we met a family and actually got to have dinner with them, and they were so thankful just for us being there that week."
Student volunteers traveled to Powell Gardens Thursday, Oct. 13, where they carved pumpkins for an event the next day. Katherine Brouillet, secretary of MO Volunteers, said events like these allow students to partner with local organizations to make a difference in their community.
"I think that we're so active in getting involved in the community because it is a smaller community and I feel like people are more closely knit," Brouillet said. "There are a lot of different volunteer opportunities in the community, and I feel like the different organizations that put on the events make it well known that they are accepting volunteers and they still want people to come out and help with their events."
Rourke said volunteering has helped UCM students make a difference in their communities and in their own lives.
"I think we directly impact them. We have not only students volunteering with us, but most of our events affect (other) students in the community," Rourke said.
As students continue to volunteer in their communities, Brinkley said she enjoys serving as a liaison between UCM students and the people they serve.
"It's great to have our students engaged with the community," Brinkley said. "I know the community is very grateful and very thankful for the students that go out and volunteer their time to give back."