Barry Len Leach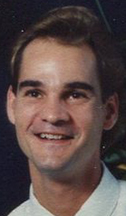 Barry Len Leach, 55, of Warrensburg, Missouri, died Monday, Sept. 19, at Ridge Crest Nursing Care Center in Warrensburg.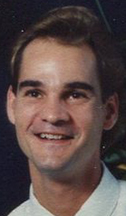 A memorial service is scheduled for 2 p.m. Sunday, Sept. 25, at Williams Funeral Chapel in Warrensburg with Father Joe Bathke of Sacred Heart Catholic Church, Chaplain Erich Kurz of Crossroads Hospice and Christine Johnson of Ridge Crest Nursing Center officiating.
Visitation will be from 1-2 p.m. Sunday at the funeral home.
Barry was born Nov. 21, 1960, in Warrensburg, the son of Marvin B. and Carol J. (McKinney) Leach. He graduated from Warrensburg High School and attended University of Central Missouri for two years. Barry was a night manager at Bi-Lo Grocery in Warrensburg for several years. He then moved to Kansas City and managed a GAP store at one time. He took a six-month course in floral designing and, soon after, worked at a floral shop in Kansas City. Barry returned to Warrensburg and opened his own flower shop, Leach's Floral Gallery. Later, he moved to Manhattan, Kansas, and worked at another flower shop. Barry eventually returned to this area and worked for Eppertines for two years in their floral and gift shop in Clinton. Barry returned to Warrensburg in 2006. He enjoyed tending to his yard and flower gardens. From his shop in Warrensburg, he would send flowers to the elderly. Barry would donate gifts to children in need during his time in Manhattan. He attended Sacred Heart Catholic Church in Warrensburg.
Survivors include his mother, Carol of Warrensburg; two brothers, Randy Leach, and wife, Wendy, of Lake of the Ozarks; and Mark Leach and wife, Barbara, of Owensville, Missouri; two nieces, Amy Wilson and husband, Jason, of Warrensburg; and Marcie Short and husband, Trevor, of Platte City, Missouri; nephew, Matt Leach and wife, Robin, of Owensville, Missouri; two great-nieces and two great-nephews. He was preceded in death by his father, Marvin.

There will be a private interment in Immaculate Conception Cemetery in Union, Missouri.
Memorial contributions are suggest to Ridge Crest Nursing Center or Crossroads Hospice.
Online condolences may be left at www.williamsfuneralchapel.net.