High demand for wax hands
By BROOKE PARKER
Reporter
(WARRENSBURG, Mo., digitalBURG) — A line of students filled the Elliott Student Union Tuesday, Sept. 13, as they waited to have their hands dipped in hot wax.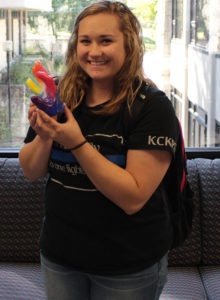 Wax Hands, a two-day event hosted by Spotlight, allowed students to form wax hand creations by placing their hands in a bucket of ice until they're numb. Then, the students dip their hands into hot wax to form the personalized wax mold. Students were able to personalize their molds by forming shapes and symbols or adding color. More than 180 students participated in the event.
Sherion Crossland, junior communication studies major, said she waited in line for 40 minutes.
"They did this event last year and I wanted to do it but couldn't because I had class," Crossland said. "I haven't thought about my hand design yet. I've seen some really cool ideas though. I have to do the multicolored hands."
Taylor Kemna, Spotlight's recreation and leisure coordinator, said even though the line was long, Spotlight worked hard to keep the event fun for students.
"Even just by standing in these lines people are making friends and listening to music," Kemna said. "Part of your tuition pays for these activities so we try and find things that students will enjoy and can't find anywhere else."
Spotlight events are funded by student activities fees and happen during school days, evenings and weekends. Many of the entertainment events on campus are hosted by Spotlight.
"We bring comedians and guest speakers because part of your tuition is getting to pay for events like this," Kemna said. "We try and find activities that students will enjoy and can't find anywhere else."