Jerry Elliott
Jerry D. Elliott, 76, of Warrensburg, died Wednesday, Sept. 14, at his home.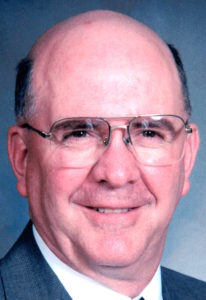 Memorial services will be held at 2 p.m. on Sunday, Sept. 18, at Sweeney-Phillips & Holdren Funeral Home. The family will receive friends Saturday, Sept. 17, from 6:30-8 p.m. at the funeral home. Honorary pallbearers will be Ben Edmondson, Jim Dahlman, Brian Dake, Dr. J.B. Astik, David DeFrain, Bob Lotspeich, Lynn Solomon, Bob Bartlett, Mike Jinks, and Paul Rizzo.
Memorial contributions are suggested to Crossroads Hospice or Johnson County Cancer Foundation and can be left in care of the funeral home.
He was born September 17, 1939 in Kansas City, Missouri, the son of Gareld D. and Clara L. (Jones) Elliott.
On December 17, 1960, he and Mary Sheilia Wilson were married in the Central Missouri State College Chapel (now University of Central Missouri), in Warrensburg.
Jerry graduated from Latour High School in 1957. He received his Bachelors of Science, Masters, and Specialist degrees from Central Missouri State University, and his Doctorate from University of Missouri.
Jerry taught at Raytown, Knob Noster, and Warrensburg Junior High as a physical education teacher. He later worked at the Warrensburg High School as a PE and Health Education Teacher, Driver's Education Instructor, Head Basketball Coach, Tennis Coach, and Assistant Football Coach. In 1967, his basketball team won the Missouri Class M State Championship.
Later Jerry went to work as the Business Manager for Revenue at CMSU, retiring in 2002. He worked as Elementary Assistant Principal for the Sherwood School District in Creighton, Missouri, for one year.
He was a member of the First Presbyterian Church and sang in their choir. He was a Past President and member of the Warrensburg Rotary Club, Phi Delta Kappa fraternity, and the Teacher's Pet Barbershop Harmony group. He was the chairman of the Johnson County United Way for several years. He coached little league baseball for the Bobcats and the Elk's Warriors and was the head coach for the Warrensburg American Legion Baseball Team.
Jerry is survived by his wife, Mary Sheilia Elliott, of Warrensburg; a son, Michael D. Elliott, of Blue Springs, Missouri; three grandchildren, Stephen M. Elliott and wife, Sarah, of Norwalk, Connecticut, Katherine J. Beachy, of Warrensburg, and Elizabeth M. Elliott, of Blue Springs; a sister, JoAnn Landers and husband, Bill, of Canyon Lake, Texas; brother, Jimmy Elliott and Carrie,
of Warrensburg; and several cousins, nieces, and nephews.
He was preceded in death by his parents.