By ALI OVERSTREET
Sports Editor
(WARRENSBURG, Mo., digitalBURG) — The UCM Mules football team opened the season with a win Sept. 1, beating the Pittsburg State Gorillas 34-27 at Carnie Smith Stadium.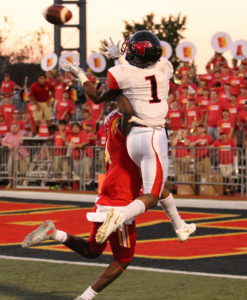 The win puts the team on track to achieve coach Jim Svoboda's goals – win the MIAA Conference and a MIAA championship. The Mules were 8-3 last season and finished in a tie for third in the MIAA, just missing a postseason berth. The conference has always been competitive as the national champion has come out of the MIAA the last three out of six years.
This season, the Mules return 48 lettermen and 19 starters from last season's squad, including nine on the defensive side of the ball and six on offense.
Story continues below advertisement
"Anytime you have your starting quarterback return, you feel like that's definitely a strength," Svoboda said. "Especially when he's a guy like Garrett Fugate who played great his junior season and also has tremendous leadership qualities and he's surrounded by a good skill set."
Going into their first game, the Mules' running game was unknown because they have some players in the back field who do not have much playing time. However, in the game against Pittsburg State, Tyler Jones made a 75-yard run on third and 8 from the UCM 11, earning him the MIAA Player of the Week honors along with Jaylen Zachery, who had 153 return yards, including a 73-yard punt return for a touchdown.
This season, the Mules welcomed a new defensive coordinator to the squad, Wes Bell. He arrived here from Missouri Western in May and began working with the players when the Mules started fall camp some four weeks ago. Bell's defense at Missouri Western was second in the MIAA last year in scoring defense, allowing 19.7 points per game.
"When it comes down to it, football is tackling and blocking – some of the fundamental things and really just giving our players the ability to fly around and play fast," Svoboda said. "From what I've seen, we will be doing that this season."
Svoboda said the team sticks to routine to fully prepare for each game.
"The important thing for each game is that the players are able to expect anything," Svoboda said. "Simply because everybody has probably done some tweaking in the off-season and even though we feel like we know a lot about them and they know a lot about us, everybody is going to do a few things a little bit different in the actual game."
Svoboda said the team aspires to adhere to their core values.
"Obviously everyone is trying to win as many games as they can. It's why you keep score," he said. "We want to win a championship. We want the hardware. We want to go for the highest achievement within our sport, but at the same time we also want to give our players some things that they will value after they graduate and help them be better individuals. We want them to flourish in their occupations and become leaders in society."
Svoboda said there are valuable things people can learn through athletics and particularly football because it's such a physically demanding sport.
"Each game is kind of a microcosm of getting hit, getting knocked down and picking yourself back up," he said. "It's really a game about how you respond, which is important in life. Everyone is going to be dealt a crappy hand from time to time and what we tell our players is, you can either sit around and pout and you can damn your luck or you can kind of get in action mode and do something about your situation."
The Mules' first home game is set for 7 p.m. Thursday, Sept. 8 when they host Fort Hays State at Walton Stadium/Kennedy Field. The annual Get the Red Out street fair is scheduled to take place prior to the game from 4 to 6:30 p.m. on Holden Street, between Clark and South streets.