James Ripley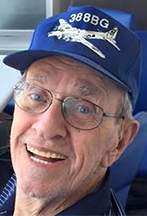 James W. Ripley, 92, of Pleasant Hill, Missouri, (formerly of La Monte, Missouri), died quietly at 1:05 p.m., Aug. 18, at St. Luke's Hospital on the Plaza, of complications incurred in a fall in his home.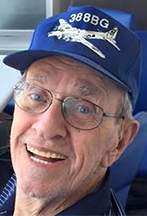 Visitation will be at La Monte Christian Church Wednesday, Aug. 24 at 1 p.m., followed by funeral services at 2 p.m.. Interment will be at La Monte Cemetery with full military honors.  At Ripley's request it will be a closed casket ceremony.  The Church will serve lunch to family members following the service.  The family requests donations to the Show-Me Christian Youth Home of La Monte, Mr. Ripley's chosen charity, in lieu of flowers.
Ripley was born May 30, 1924 in La Monte to Floyd and Flossie Ripley.  Ripley is preceded in death by his parents and sisters, Mary (Ripley) Guthrie and Doris (Ripley) Gill.  His childhood was spent in his hometown of La Monte, where he played basketball and graduated from La Monte High School in 1942. Following graduation he entered the military (Army Air Corps), serving as Waist-gunner, Tail-gunner and Bombardier/Togglier on a B-17 flying daylight missions over Germany and occupied Europe in WW2.  Ripley achieved the rank of Staff Sgt. and was a decorated flight crew member.
Ripley's Medals: European Service Ribbon, Middle Eastern Service Ribbon, Distinguished Air Medal with 3 Oak Leaf Clusters, Presidential citation for Shuttle Mission to Africa (service ribbon), Overseas Bar, Aerial Gunner Badge, his unit received a Presidential Citation, 2 Bronze Stars, Distinguished Flying Cross, and he was under consideration for the Congressional Medal of Honor for his part in the successful landing of his final flight.
On July 26, 2015, The Kansas City Royals Organization honored Ripley's service.  Ripley was pictured on the Royals Crown Vision video board and received a standing ovation from Royals fans.
Following his service, Ripley returned home to work and attended college at Central Missouri State University in Warrensburg. He was chosen as interim varsity basketball coach at La Monte High School for one season. Ripley was a long time Bank officer serving as stock-holder, Vice-President, Manager/Vice-President and President/CEO of banks in Knob Noster, Odessa, Pleasant Hill, Sedalia and La Monte and is a former mayor of La Monte. He was concurrently a Realtor and developer. Ripley was active in the VFW and American Legion serving as VFW Post Commander in Sedalia and as American Legion commander in Knob Noster. Ripley was a leader in establishing a Pleasant Hill War memorial island that is a centerpiece of downtown Pleasant Hill.  There is a yearly Memorial Day presentation and military salute at the site.
After retirement Ripley enjoyed time with his family and friends, watching the Western Channel, growing tomatoes, attending VFW events and his daily coffee club meetings with Pleasant Hill friends.  He was active, healthy, articulate and mentally sharp into his 90s.  Ripley enjoyed Royals baseball, talking about sports and loved to laugh and make others laugh.  Mr. Ripley loved his hometown of La Monte and returned often to visit old friends and family.  He was a lifetime member of the La Monte Christian Church.
Ripley is survived of the home by his wife of 66 years, Juanita (Lyle) Ripley (Joined in marriage May 21, 1950) and by his Sons, Warren Ripley and wife, Penny Ripley, of Pleasant Hill; Jim Ripley and wife, Mary Ripley, of Lee's Summit; along with his daughter, Janet (Ripley) Wehmeir and husband Keith Wehmeir, of Lee's Summit. Also surviving are nine grandchildren, 17 great-grandchildren, eight stepgrandchildren, and eight great-stepgrandchildren, and many nephews and nieces.