Jace Booker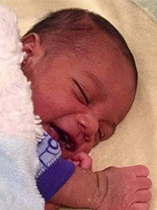 Baby Jace Ngerbuil Booker, age 7 weeks, of Knob Noster, passed away Friday, Aug. 12, at Western Missouri Medical Center.
Funeral services will beat 5 p.m. Friday, Aug. 19, 2016 at Sweeney-Phillips & Holdren Funeral Home with Pastor Steve Maples officiating. The family will receive friends from 3-5 p.m. at the funeral home. Cremation will follow the service.
He was born June 17, in Warrensburg, Missouri. Baby Jace is the son of Jelson Booker and Nikki Ezekiel, of Knob Noster, Missouri.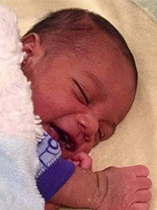 His paternal grandparents are Oscar Omelau, Willie Booker and Ferista Booker. His maternal grandparents are Ymesei Ezekiel and Naomi Debelbot, of Palau. Baby Jace has one brother ("JJ") and many uncles, aunts, cousins and relatives.
Memorial contributions are suggested to the family for a future bereavement fund with checks made payable to Elphidia "Nikki" Ezekiel and left in care of the funeral home.