Trevor David Reese Sr.
Trevor David Reese Sr., 93, of Warrensburg, died Monday, July 25, at his home.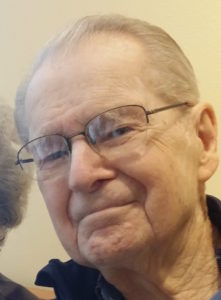 Funeral services will be held Thursday, July 28, at 10:30 a.m. at the Peninsula Baptist Church in Blackwater, Missouri. Interment will follow in Peninsula Baptist Church Cemetery with full military honors. Pallbearers will be Trevor Reese Jr., Mark Reese, Doyle Oxley, R. Elias Oxley, Matthew Chenoweth and Kevin Powell.
The family will receive friends from 6-8 p.m. Wednesday at Sweeney-Phillips & Holdren Funeral Home in Warrensburg.
Trevor was born March 14, 1923 in Kansas City, Missouri, the son of Ivor E. and Gertrude (Cramer) Reese. On May 15, 1948, he and Alma "Sue" Alley were united in marriage at Peninsula Baptist Church in Blackwater, Missouri, in a double ceremony with her sister (Sarah and Paul Stober). They were married for 67 wonderful years until Sue's passing on Dec. 11, 2015.
Trevor graduated from North East High School in Kansas City before enlisting in the U.S. Navy. At the end of World War II he was flying for the Army Air Corps. After his service he attended the University of Missouri where he obtained his bachelor's of science in electrical engineering. He worked for 30 years as a civilian missile engineer. His career took him to California, Oklahoma, and finally to Warrensburg where he was chief missile engineer. After his second retirement, he worked for 15 years in the University of Central Missouri Book Store where he enjoyed a wonderful community of friends.
Trevor's Christian faith was a very real and very important cornerstone of his life, and he made sure that faith was passed on to his family. He taught and lived by the creed: I pass through this world but once. Any good therefore that I can do or any kindness that I can show to any human being, let me do it now. Let me not defer or neglect it, for I shall not pass this way again.
Trevor is survived by two sons, Trevor David Reese, Jr. of St. Louis, and Mark Richard Reese and wife, Tina, of Anthem, Arizona; a daughter, Susan Reneé Oxley and husband, Doyle, of Centerview, Missouri; a brother, Gordon Reese and wife, Donna, of Atlanta, Georgia; a sister, Janice Peters and husband, Avin, of Independence, Missouri; six grandchildren, Erin Chenoweth and husband, Matthew, of St. Louis, Ashley Powell and husband, Kevin, of St. Louis, Jonie Oxley and R. Elias Oxley of Centerview, Laura Reese and Kimberly Reese of Anthem; and one great-grandson, James Alley Chenoweth of St. Louis.
He was preceded in death by his parents, his wife, Sue, and two brothers, Ivor Elias, Jr. (Bud) and Evan Reese, and three sisters, Vesta Belle Hutsel, Gwen Hutsel and Donna Addison.
Memorial contributions are suggested to Lottie Moon Missions or Samaritan's Purse and can be left in care of the funeral home.