Hession motivates fellow runners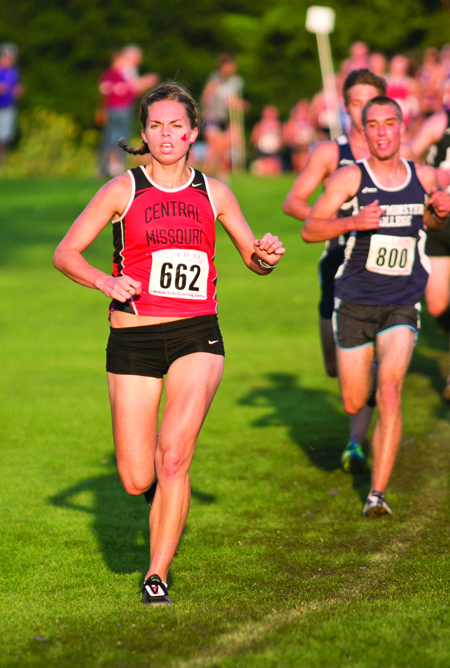 Story by Natasha Dickey, for The Muleskinner—
 Senior Kacy Hession was one of the best runners at Central her freshman year, and has only gotten better as her college career has gone on.
As a freshman, she was the highest placing Jennie at regionals in cross country. She placed 17th in the 5,000m run and 23rd in the 3,000m run at the MIAA Championships in indoor track, and finished sixth in the 3,000m Steeplechase at the MIAA Championships in outdoor track.
In her sophomore year, Hession finished in 28th in the 6K at the cross country MIAA Championships. In indoor track, she finished 14th in both the 3,000m run and 5,000m run at the MIAA Championships.
In outdoor track, she was named All-MIAA after her third-place finish in the 3,000m Steeplechase at the MIAA Championships.
Last season, Hession was the highest placing Jenny at regionals with a 31st place finish in the 6K. In outdoor track, she earned All-MIAA honors in the 3,000m Steeplechase, finishing second.
Kirk Pedersen, head cross country coach and co-head track and field coach, has been impressed with the progress she has made from her freshman year until now.  He says it didn't come easy, but she has become a top runner for the team and has raised the ability for the other runners.
Hession wants to set an example for the team and she is seen as a leader. Her actions have been noticed by her coach and the other members of the team are motivated by her work ethic.
"Her leadership has been key to the team being successful," Pedersen said.
Junior runner Courtney Klaty said Hession keeps her motivated.
"Watching her dedicate herself to running, and therefore succeeding, has caused me to put that same dedication and time into running," Klaty said. "She woke up at 4:45 a.m. each day this summer to run before going to work, and that was extreme motivation for me."
Klaty has known Hession for more than 2 years, and they have grown to be great friends. Klaty describes Hession's personality as dedicated, sweet, loyal, easy-going and fun. She believes Hession is one of the most positive influences on the Jens cross country team, and she always comes to practice with a smile on her face and is ready to run.
"I have loved sharing an apartment with her because she is the greatest friend I could ever ask for," Klaty said.
As well as her many athletic accomplishments, Hession excels in the classroom.
"I can't think of a better person to write about," Pedersen said. "She's balanced, and a good student that cares about the classroom."
Hession is a representative for the Student-Athlete Advisory Committee on campus. She also is an honorary first grade assistant at Maple Grove Elementary. She earned the MIAA Scholar-Athlete Award last season for her work both in the classroom and in athletics. She was also named to the MIAA Academic Honor Roll twice.
Hession plans to follow in her parents' footsteps and become a teacher. Her mother teaches family and consumer science and her father teaches English. She is majoring in biology. Although she only plans to continuing running for fun, she inspires to be either a cross country or track coach.
Hession says she will miss her team.
"They are like an extended family, and I will miss Kirk [Pedersen], of course," Hession said.