Shirley Baker Barnett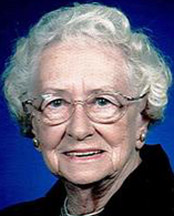 Shirley Baker Barnett, 90, of Kingsville, Missouri, died Oct. 30, at Village House of John Knox Village.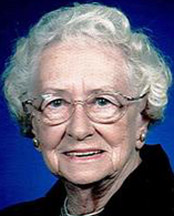 Funeral services will be 11 a.m. Tuesday, Nov. 3, at the Kingsville Baptist Church with visitation from 9:30 a.m. to service time. Private burial will follow at Sunset Hill Cemetery in Warrensburg.
She was born Feb. 11, 1925, the only child of Frank and Ada Snyder Baker.
She married Arthur (Barney) Barnett on Oct. 11, 1946, in Kansas City, Missouri. They recently celebrated their 69th wedding anniversary. Shirley spent most of her life in the Kingsville area. She graduated from Kingsville High School in 1943. She went to Huff Business College and worked at Farmers Insurance Company in Kansas City for three years.
She was a lifelong member of the Kingsville Baptist Church. She was church clerk for several years. Shirley had a love of music and had served as church pianist. She was a charter member of the Ladies Auxiliary, Holden VFW Post.
She is survived by her husband, Arthur; son, Allen Barnett and wife, Wanda, of Kearney, Missouri; son, Ed Barnett and wife, Stacy, of Kingsville; daughter, Linda Duncan and husband, P.D., of Kingsville; four grandchildren, Lora Barnett Lowe and husband, Bill, of Kearney; Dwayne Barnett and wife, Patty, of St. Louis; Michael Barnett and Sarah Duncan, of Kingsville; three great-grandsons, Shane and Noah Lowe and Brayden Arthur Barnett.
She is also survived by cousins Barbara Bryant Bruns, Bob Bryant, Jim Bryant, Jean Sappington Doll and Lea Ann Sappington Hough; one sister-in-law, Ruth Barnett; and a host of Barnett nieces and nephews and her faithful home health nurse and friend, Lori Aiken.
Funeral services directed by Williams Funeral Chapel, of Holden, Missouri.
Memorial donations are suggested to the Kingsville Baptist Church or John Knox Village Hospice House. Online condolences may be left at www.williamsfuneralchapel.net.