In the eyes of a tourist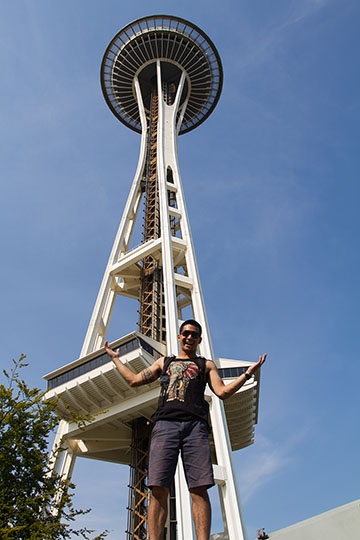 By BRANDON BOWMAN
Photo Editor
(SEATTLE, digitalBURG) — I live for adventure and to "suck out all the marrow of life." As a photographer, I want to capture every bit of those moments. During the summer of 2015, I boarded the plane with my camera, equipment, a bag of clothes and $200 cash in my wallet.

My destination? Seattle, Washington. The second my window finally peeked through the clouds on our descent, I laid eyes on the city that would capture my heart.
At first glance of this gloomy city, you tend to think of the tragedies that surround Mercy West Hospital and all its unfortunate habitants. But once you set foot onto the streets, then and only then, do you begin to understand what the big deal is. You begin to fall in love with Seattle.
I was able to visit Seattle because my childhood best friend, who now lives there, paid for half of my plane ticket.
It's been three years since I'd last seen my best friend Dakota, the very first friend I made when I moved to Missouri from Georgia. The friend I spent countless hours playing Star Wars Battlefront II with, the best friend who I call my brother.
It's been three years since he up and left for Seattle, and on Aug. 10, I boarded a plane that would reunite me with my brother. What I didn't realize was that this weeklong trip would be the best trip of my entire life.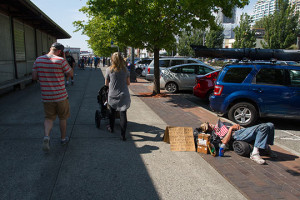 After I figured out the intricate maze of SeaTac (Seattle Airport), I was finally able to find my brother. Seeing him again flooded me with the memories of our childhood, every game we played, every Roman candle war, snowball fight, every gun we shot, it hit me – all at once. We gave each other a long hard hug and then started our adventure.
As we walked from the airport to the Light Rail, Dakota explained to me how the city worked. It was a lot to learn, and I didn't quite understand the whole thing yet, but thankfully, he was there to be my guide.
When I boarded the rail, I realized that this was my first time using public transportation. I expected a flood of people moving as a cohesive entity cramming into this steel tube, hating their lives and wishing for better – something out of a movie in New York – but it was practically empty. Aside from myself and Dakota, there was only one other person onboard.
Even for the rest of the week, I only had to stand one time, and it wasn't even bad. No shoulder-to-shoulder, no accidental groping and no one staring into your soul expecting handouts.
One of the first things Dakota said to me was to not feel sorry for the homeless because they are everywhere and there is a reason why they are homeless. Even after he said that, I felt like I still needed to do something, so I photographed them. I only captured about 10 members of the homeless community, but each one had an impact on me. The one that left the biggest impression on me was watching a young couple getting out of their fancy car and walking right past a homeless veteran. The couple didn't even bother looking at this human being. This impacted me the most because that could have been me or my dad or even my own grandfather because of our military backgrounds.

After we finally reached his apartment to drop off my bags, we headed downtown to find some food. As my brother wisely said, "You really experience Seattle through the food."
Food was a whole experience of its own: fresh seafood at a restaurant right off the docks, fresh handmade noodles, the smell of the original Starbucks which we didn't actually go in because the line was too long and the cutest little hand pies.
It was incredible to see so much diversity and to see how food had brought everyone together. Who can resist bacon noodles (aside from vegans)?
We walked 17 miles a day for the first three days just exploring everything the city had to offer. On the first day, we went to Pike Place Market and wandered the sea of food, products and people.
Also, beware of fish being thrown around! And the gum wall is actually pretty neat! After Pikes, we wandered down to the Waterfront where we sat along the pier and watched the Ferris wheel go around and around. On day two, we played around the industrial park, throwing a Frisbee around and just having fun.
We wandered to the Modern Art Museum, also known as the EMP, with a lovely strawberry mango smoothie to cool us off.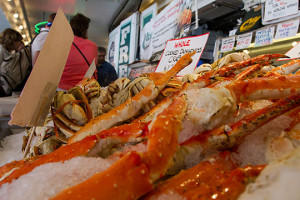 After our adventure into EMP, we headed straight toward the iconic Space Needle. We snapped a few playful photos and off on our way to find the nearest bar and back to get some much needed rest.
On the third day, I got up early and headed toward the lake that was a few hundred feet from my buddy's apartment. I may have jumped a few fences and a gate or two and set up my camera to capture a magnificent sunrise . . . but Mother Nature had other plans. Daybreak revealed an overcast sky, so after an unsuccessful morning, we headed toward the city to run some errands, wandering around Fremont and chilling with the Troll. Then we managed to find ourselves 73 floors high looking over entire city in the Sky View Observatory.
After the observatory, we ended the day watching the sun set on the rock and sand mixed coast of Discovery Park.
After the first three days, we decided to keep it chill and sat around, watched some TV, went to the mall, went out for drinks at an arcade bar and hung around the pool. On my last day of my journey was the day Seattle decided to show me what it was most famous for: the rain. One of the biggest things I learned that day is that life still goes on and that real Seattlites don't carry umbrellas; only tourists do.

All in all, Seattle captured my heart and soul, and I will never forget the experience that I had while I was there. None of this would have happened if it wasn't for my best friend who helped me get there, gave me a place to stay, showed me the Seattle ways and accompanied me along my journey. If you are reading this, then go and find your journey, go find your Seattle, just GO!