Daniel K. Fleeman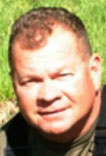 Daniel K. Fleeman, 55, Kingsville, Missouri, died Wednesday, Sept. 23, at his home.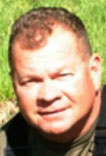 Memorial services will be 3 p.m. Monday, Sept. 25, at Kingsville Baptist Church with Pastor John McRoy officiating. Interment will follow in the Kingsville Cemetery. Honorary pallbearers will be Jay Fleeman, Ben Wright, Joey Fleeman, Zach Fleeman, Tommy Smith and Vinnie Sears.
The family will receive friends from 1-3 p.m. Monday at the church.
Danny was born April 5, 1960, in Lexington, Missouri, the son of Kenneth Eugene Fleeman and Marlene (Osborn) Fleeman. He graduated from Kingsville High School. He was united in marriage to Deborah J. Sears on June 2, 1984, in Kingsville. Danny worked at Bratton Corp in Kansas City for several years. He then was employed at Tasco in Pleasant Hill and later, McKorkendale Construction in Kansas. He was employed with Mark One Electric in Kansas City at the time of his passing. Danny was an avid hunter and sport fisherman. He also enjoyed playing golf. He was a fast-pitch softball catcher for many years. He coached his children's ball teams in years past. He was a big Missouri Tiger fan.
Survivors include his wife, Debbie; three children and their spouses, Jason and Tami Brown, of Holden, Missouri; Jessica and Larry Weir, of Pleasant Hill, Missouri; and Beau and Brittany Fleeman, of Pleasant Hill; two sisters, Sandy Wright and husband, Mel, of Pleasant Hill; and Kathy Smith and husband, Ed, of Lone Jack, Missouri; three brothers, John Fleeman and wife, Glenna; Mickey Fleeman and wife, Jamey; and Clayton Fleeman and wife, Ralyne, all of Pleasant Hill; eight grandchildren, Jordan, Jayden, Jarrin and Jazmyn Brown; Elijah and Jackson Weir and Tatum and Brody Fleeman; and also numerous nieces and nephews. He was preceded in death by both parents.
Arrangements entrusted to Williams Funeral Chapel in Holden. Online condolences may be left at www.williamsfuneralchapel.net.