Faces of UCM: Megan Stanley
By BETHANY SHERROW
Assistant News Editor
(WARRENSBURG, Mo., digitalBURG) — Megan Stanley describes herself as an incredibly sarcastic, yet caring, self-proclaimed, nerdy person. She is also a Residence Hall Advisor and world traveler.

Stanley is of English, German and Irish decent. She said she's proud of her heritage because each culture has a very strong personality. In fact, she has part of the English crest tattooed on her chest and has traveled to all three countries.
Born in Colorado, Stanley lived there as a child for a few years before moving to Germany because of her dad's work in the Air Force. She lived abroad for nearly three years before moving back to the states and settling south of Wichita in Derby, Kansas.
"So I call Derby, Kansas my hometown," Stanley said. Stanley said she developed a passion for traveling because she moved so frequently as a kid.
"I've traveled to England, because my dad was stationed there," Stanley said. "I've traveled back to Germany. I've traveled to Switzerland and then to Ireland as well."
This past summer, Stanley landed in Dublin, Ireland for an internship.
"So I was there for two straight months," she said. " I was just thrown into the culture."
While she may have faced a difficult summer personally, Stanley said she would not have come home for anything.
"It was magical," she said. "It's unbelievable. I look back on it now and think about how I spent the whole summer in a different country just gallivanting around – not worried about anything."
While Stanley said she loved to travel and see new places, she would only consider going back to Ireland.
"The views, and the people – I don't know," Stanley said. "It's a magical place."
In her second year as a RHD, and since the beginning of graduate school, Stanley said she has changed and grown in nearly every way. Especially when it came to how timid and nervous she used to be.
"I thought I was just going to fall flat on my face," Stanley said. "I'm completely opposite from that now. I'm almost excited to make mistakes because that way, I really learn that lesson."
Stanley said she is much bolder now. In addition to a passion for students and university administration, Stanley has a thing for tattoos.
She got her first tattoo, the Deathly Hallows symbol from "Harry Potter," when she was 17 years old.
"I love telling that story because you know in the wizarding world, they turn (of) age at 17," Stanley said. "So it was like I was turning (of) age."
She also has several other tattoos like a rainbow heart on her foot, which she got when she was in the process of coming out.
"So it was half me trying to hint toward people in a very big way that this is happening – this is permanent," she said. "It was also just to show support because I knew a lot of lesbian and gay people in my high school that had a really hard time coming from a smaller Mid-Western town."
Stanley's other tattoos are quotes or symbols from some of her favorite books.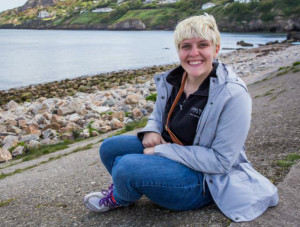 Her newest tattoo will be a symbol from an ancient tomb she visited while in Ireland. She said the tomb is older than the Egyptian pyramids, and no one really knows why it's there or what the script means.
"They think it means, life, death and rebirth," Stanley said. "I like that, because it's more of an everyday thing to me. Like OK, you messed up today, you're going to be a better person tomorrow – let's go for it."
Stanley said her tattoos are a way for her to express who she is and to tell her stories.
She said the best advice she has is to respectfully be yourself. Her tattoos are a way for her to do that, while still being a professional.
"Be yourself no matter the situation," Stanley said. "Have that confidence."
Stanley said that she thinks a lot of people have many negative thoughts and defeatist energy where they think they can't do anything.
"It's not like that," Stanley said. "There is a lot of love and a lot of positivity to go around."