Sen. Pearce discusses communication in politics
Story by Katie Douglas, for The Muleskinner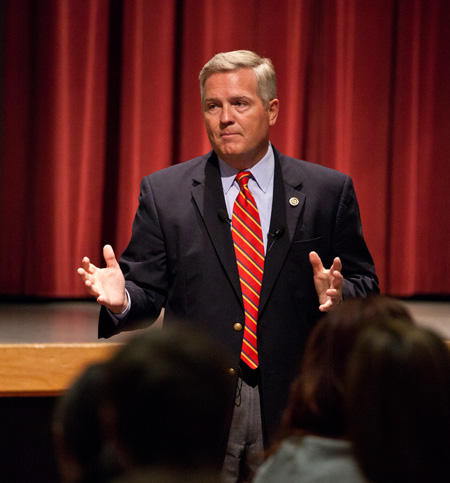 Going into a job interview well-dressed with a top-notch résumé , your confidence is high, but when it is time to talk, gulp, nothing comes out.
Now imagine running for state Senate and being asked a question and, gulp, nothing comes out. This is when you don't get the job or voted in.
Good communication, whether it is in an interview, political debate or speaking to an audience, is one of the many keys to success.
It is important to know how to say the right thing in the right way, so that the message is properly received by the audience.
Missouri state Sen. David Pearce discussed public speaking, social media and the importance of communication in politics, Oct. 4, to crowd of 200 students at the University of Central Missouri.
Pearce is the 31st District senator and is running for re-election. The winner of the race will represent the 21st District following redistricting.
After a quick introduction by Dr. Adam Horn, professor of public relations, Pearce took one look at his speech and dropped it on the podium, not to be touched again for a long time.
He discussed tips about how to be an effective public speaker, especially in politics.
Tip one: Be accessible.
Being accessible is an important part of being a senator, especially in election season.
"When somebody calls me up and asks me to do a speech, I very, very, very, seldom decline," Pearce said. "I mean, that's just one thing. If somebody thinks enough of you to come speak then you need to be there to actually speak."
Tip two: Know your audience.
Pearce appeared to know his audience when he arrived at UCM. He discussed the importance of communication in social media, which is something a lot of college-aged students can relate to.
Social media is not only used for chatting with friends anymore.
Future and current employers use it to keep tabs on employees.
Politicians utilize it to get their messages out, and businesses use it as cheap advertising.
Pearce has a Facebook page for his campaign, but he chooses not to have personal social media sites such as a Facebook or Twitter.
"I'm very scared of it," Pearce said. "I don't understand it enough to feel comfortable with it. I think if you're going to do something, you need to do it right or you don't do it at all."
UCM public relations student, Angela Orr, who was in attendance, said she was OK with Pearce's decision not to have personal social media sites.
"He has used his sense of judgment and critical thinking and came to the conclusion that social media is not where his focus needs to be," Orr said. "He is playing it safe, and personally, I applaud him."
Tip three: Speak so that they can hear you.
"It doesn't matter what you say," Pearce said. "If they can't hear you, communication is dead. If you are without a microphone, make sure that you rise above the noise or make sure that you've got a good microphone that will work or that's put in the right place. You've got to be heard."
At the beginning of his speech, Pearce couldn't help but acknowledge the microphones attached to his jacket.
"I'm always haunted by that scene in 'Naked Gun 33 1/3' where Leslie Nielsen goes to the bathroom and forgets to turn off his microphone," Pearce said as the audience laughed. "So that's your job Dr. Horn, to make sure that doesn't happen."
Tip four: Keep within your time limit.
Pearce kept within his time constraints by asking, over the microphone, how he was doing on time. That is one way of doing it.
Presentation trainer Olivia Mitchell, based in New Zealand, offers up other advice.
"If a time limit has been set for your presentation, then it's your responsibility to finish it within that time," Mitchell wrote on her website. "Consider it as part of the contract between you and your audience."
Orr said she thought that Pearce's tips regarding public speaking were helpful to students who may be taking a public speaking class or looking to make a career out of it.
"He was very well spoken. He knew where he was. He plugged his campaign, but not too much," Orr said. "I think he made a wonderful presentation."
So, while you may not be heading on the campaign trail like Pearce, the next time you head into that interview or walk up to make that speech, relax, and keep in mind some of Pearce's tips and tricks for successful communication.