Concert review: Spotlight hosts quality concert
By NHAN VACCA & SAMANTHA WATSON
Reporters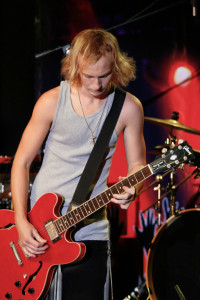 (WARRENSBURGS, Mo., digitalBURG) — Five bands took the stage Friday night, putting on an exceptional concert that magnified the Multipurpose Building. Traveling from various places throughout the country, these amazing groups played a rocking show here on campus.
Jon Barr, president of Spotlight, coordinated the event for UCM's fall concert. After seeing Rivers Monroe playing at other local events, Barr said he was excited to see the performer at UCM.
The bands, including Eddy Davis, Devon, Howling Tongues, Christian O'Connor and headliner Rivers Monroe, played sets that spanned throughout the night. Each band showed off their own unique excitement on stage and even went off stage to interact with their fans.
Not only did we get invited to go backstage with the talented band, but they also called us to the stage to take part in a fun experience that an average member in the crowd wouldn't get. We were handed giant beach balls and were told to throw them into the crowd. This in return, brought energy to the fans and band members. Throughout the show, Rivers Monroe covered songs from other bands such as the famous Blink 182, Rascal Flatts and, of course, original songs. An example of the bands great fan interaction, was the moment lead singer Mike Monroe got off stage, wrapped his arm around one lucky girl from the crowd and proceeded to serenade her.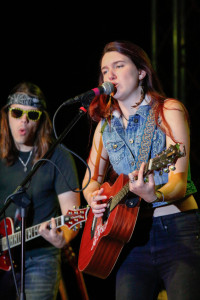 The night ended with the crowd enthusiastically requesting an encore. The event was a fantastic opportunity for students to experience live music on campus.
A huge round of applause goes to all the bands who performed Saturday night, as well as Spotlight for putting on such a great event.