Underdogs rising again
By BETHANY SHERROW
Assistant News Editor
(WARRENSBURG, Mo., digitalBURG) — Underdogs is back on campus after a two year break.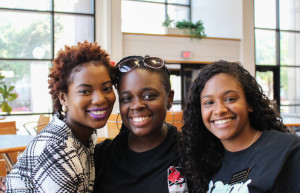 The mentorship program was newly reinstated by a new team on campus. The re-creation of Underdogs is the work of Lauren Newsome, a sophomore middle school math education major.
"So originally it was on campus in 2012, and due to the old executive team just getting involved in other things, it kind of fell off," Newsome said.
After hearing about Underdogs from a friend who participated in the program his freshman year, Newsome got in contact with the original founder of Underdogs and a bond was made.
"Shania Boyd is the original founder of Underdogs, so it was her baby first and now I've adopted it," she said.
Jessica Garret, Underdogs fundraising chair, said the program is a mentor-mentee program.
"It's geared toward freshman and transfer students mainly, but we do accept upperclassmen," Garret said.


Newsome said mentors will be known as TopDogs and mentees will be Underdogs which is where the program's name came from.
"When we use the terms Underdogs and TopDogs, don't think of it as negative," Newsome said. "Everyone cheers for the Underdogs. We all just want you guys to succeed."
Newsome has made a few revisions to the organization's bylaws.
"One thing that I've revised is that I want it to more of just a linking up of upperclassmen to underclassmen instead of it being more focused on events."
Newsome said statistics show that students do better and stay in school longer when they're more involved on their campuses.
"So I really wanted to promote a positive atmosphere and hopefully keep more students coming to school," she said.
Raven Alade, Underdogs vice president, is also passionate about building a positive community.
"Underdogs is really about to take over this campus and build this family up like it should've been built up years ago," Alade said. "I just want people to feel welcome."


The executive board is excited for their first meeting because they gained more interest than they expected in the past couple weeks. Underdogs had around 70 people sign up for their program at the involvement fair Aug. 19.
The program has been approved by the UCM Office of Student Activities, and Newsome said if anyone wants to join Underdogs as a paying member, the fee is $5.
"That doesn't mean you have to pay $5 to come to an event or to help with community service," she said.
The $5 fee covers costs for members-only events and parties.
Newsome and her team said they are excited for their launch.
"I want people to be like 'Oh yeah, that's Underdogs, I did that my freshman year and it made my campus experience a hundred times better,'" she said.
Newsome said she's excited about the Underdogs' first event scheduled for 6:30 p.m. Sept. 9 in the Union Ballroom.
"It's just something to introduce us and let them know what we're about," she said.
Alade said she definitely wants people to come out to the first event.
"It's called Dog Pound," she said. "I want to make sure that everybody knows that we are here for them — freshmen, transfer, anybody really. We are here for them."