CAs and GAs take Title IX training

by LEAH WANKUM
Managing Editor
New and returning graduate assistants, residence hall directors, community advisors and chapter assistants attended a mandatory training session on Title IX Wednesday in Highlander Theatre.
It is required by law that everyone working for UCM attends a Title IX training session. Title IX of the Education Amendments of 1972 is a federal civil rights law that prohibits discrimination on the basis of sex against any person in education programs and activities receiving federal funding, according to the university's webpage on Title IX.
Husch Blackwell, a firm that provides legal services, is the vendor providing Title IX training for UCM employees.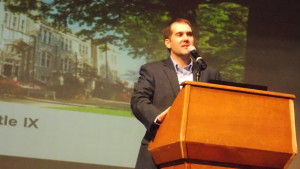 Derek Teeter, a partner with Husch Blackwell, said this is the first year the firm offered live Title IX training at UCM since previous years involved only electronic training.
"The goal of this training is to make everybody aware of the types of conduct that Title IX covers to empower them, to help students make reports, for everyone to understand the process that we use here at UCM and try to create a campus climate where people know it's OK to report this conduct and we're not going to tolerate it," Teeter said. "We're going to address it when we learn about it."
Teeter said there is no specific reason why live training for Title IX is being offered in person at UCM for the first time.
"It's part of our ongoing efforts to address sexual misconduct and there are new federal regulations that require it," Teeter said. "But I think also universities and colleges are becoming more and more aware about what we can do to address this and improve climate on campus, and it's happening everywhere and it's happening here and that's really why."
Corey Bowman is the university's Title IX coordinator. Rick Dixon, director of human resources, and Kathy Anderson, senior associate athletic director, are both deputy Title IX coordinators. Their work with Husch Blackwell and Shelly Gonzalez, policy director at UCM, made live training possible for UCM employees.
Gonzalez said she thinks the Title IX training is very much needed at the university.
"I'm glad to see we've brought Husch Blackwell onto campus to do the training," Gonzalez said. "They have a very professional model and are answering some very important questions. I have been working with Husch Blackwell and Dr. Bowman regarding the program because it reaches out to all students and staff."
Katherine Urquijo, a graduate assistant for the UCM Gallery of Art and Design, said she thinks it was a good opportunity for graduate assistants to understand that sexual harassment is an issue that has to be stopped.
"GAs and in general, the community on campus have to be aware of this problem that affects all," Urquijo said. "I liked the way they explained all types of conflicts and how we can act against them.
"In my opinion, there has to be more advertising of the issue and have people trained and qualified to supervise and see among students to report a bad situation."
Teeter said the training is so important because sexual misconduct is harmful and should be taken seriously.
"One act of it is too much, so we have these training and these programs because we want to reduce that, because we want to have a safe campus," he said. "We want all of our students and employees to be able to participate without having to endure that. So even if we hadn't had any reports in a given year, we'd still be doing this training."
For more information about Title IX training and policy, contact Associate Vice Provost for Student Services Corey Bowman, the university's Title IX coordinator, at 660-543-4114 or [email protected]