Juanita Rose Horner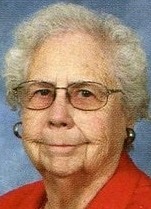 Juanita Rose Horner, 94, of Warrensburg, Missouri, died Monday, July 27, at Western Missouri Medical Center in Warrensburg.
Funeral services will be 11 a.m. Friday, July 31, at Williams Funeral Chapel in Warrensburg with the Rev. Sid Tiller officiating. Interment will follow in the Knob Noster Cemetery.
The family will receive friends from 10-11 a.m. Friday at the funeral chapel.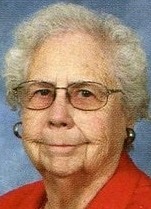 Juanita was born July 14, 1921, in Poteau, Oklahoma, the daughter of Dr. E. Q. Gibson and Rose Lee (Knight) Gibson. She graduated from Poteau High School. She was united in marriage to Max Lyle Horner on June 16, 1940, in Poteau. Her husband was a Christian Church minister. She worked by his side serving many congregations throughout the South and Midwest including East Broadway Christian Church in Sedalia. Their final ministry was in Little Sioux, Iowa. Max was forced to retire due to his battle with Parkinson's disease and the couple retired in Poteau. In 1988, they moved to Knob Noster. Upon Max's passing, Juanita moved to Warrensburg.
Juanita was a talented musician. She played piano and organ and she gave music lessons for many years. She enjoyed knitting and crocheting. She was a member of the First Christian Church of Poteau at one time. Juanita spent many days and years in the service of her Lord at Northside Christian Church in Warrensburg. She was loved and respected by people of all ages in the church and the community.
Survivors include two sons, Lyle Horner and wife, Teresa, of LaMonte, Missouri; and Rex Horner and wife, Debbie, of Aurora, Colorado; daughter-in-law, Linda Horner, of Overland Park, Kansas; five grandchildren, Daniel Horner and wife, Marcia, of Parkville, Missouri; Jennifer LaLonde and husband, Dave, of Colorado Springs, Colorado; Meredith Iversen and husband, Gregg, of Colorado Springs; Adam Horner and wife, Jessica, of Overland Park; and Erin Barham, of Jackson, Mississippi; six great-grandchildren, Chelsea Horner, of Kansas City, Missouri; Jordan Horner, of Crestview, Florida; Kathryn McDowell, Morgan McDowell, Jacob LaLonde and Benjamin LaLonde, all of Colorado Springs; two nieces, Nancy Burke and husband, Dave, of Hollister, Missouri; and Jane Hodges, of Colorado Springs; and a nephew, Russell Horner, of Stillwater, Oklahoma. She was preceded in death by her husband, Max, on Dec. 4, 1989; son, Daniel P. Horner; grandson, Greg Horner; and granddaughter, Amanda Horner.

Memorial contributions are suggested to Northside Christian Church Building Project in care of Williams funeral chapel. Online condolences may be left at www.williamsfuneralchapel.net.