F. Louise Fitterling
F. Louise Fitterling, 88, of Warrensburg, Missouri, died Tuesday, July 14, at Lee's Summit Medical Center in Lee's Summit, Missouri.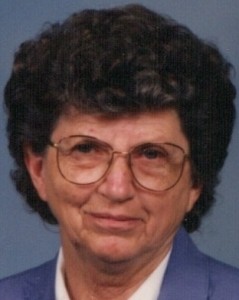 Funeral services will be held at 10 a.m. Saturday, July 18, at Sweeney-Phillips & Holdren Funeral Home in Warrensburg with Dr. Dan Lowry officiating.
Interment will follow at Sunset Hill Cemetery.
Friends may call anytime from noon Friday, July 17, until service time Saturday at the funeral home.
She was born July 13, 1927, in Leeton, Missouri, the daughter of Stanley Allen and Florence Ethel (Smaltz) Lowry.
She was united in marriage to Meville D. "Junior" Fitterling on May 4, 1947, in Higginsville, Missouri. He preceded her in death on July 18, 2000.
Louise was a graduate of Leeton High School. She was a wonderful wife, mother and grandmother.  Louise was a member of the Christian Church of Leeton, attended the First Baptist Church of Warrensburg and was a longtime member of Valley Homemakers Extension Club in Johnson County, Missouri.
Louise is survived by one daughter, Nancy Stockton, and husband, Larry, of Chilhowee, Missouri; one son, Kevin Fittlerling, and wife, Vicki, of Pleasant View, Arkansas; one brother, D.W. Lowry, and wife, Esther, of Warrensburg; and six grandchildren and nine great-grandchildren.
She was also preceded in death by her parents, one son, Larry Fitterling, and one sister, Laverne Bondurant.
In lieu of flowers, memorial contributions are suggested to the Show Me Christian Youth Home in La Monte, Missouri, and can be left in care of the funeral home.