Ray Leslie Anders Jr.
Dr. Ray Leslie Anders Jr., 93, of Warrensburg, Missouri, died Monday, July 6, at Life Care Center in Carrollton, Missouri, after a brief illness.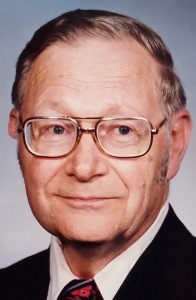 A private family burial will be held at 9 a.m. Saturday, July 11, at Laurel Oaks Cemetery in Windsor, Missouri. Memorial services will be held at 11 a.m. Saturday at the First Presbyterian Church in Warrensburg with the Rev. Kevin Jones officiating.
The family will receive friends from 6 to 8 p.m. Friday, July 10, at Sweeney-Phillips & Holdren Funeral Home in Warrensburg.
Les was born Jan. 22, 1922, in Admire, Kansas, the son of the late Ray L. Anders and Bertie Hasson Anders.
He was united in marriage to Mardellya Mary Soles (Benton County, Missouri) on Oct. 17, 1942. She was the daughter of M. Roy and Anna Belle Robinson Soles. Les Anders grew up on a farm in Reading, Kansas, and graduated valedictorian of Reading High School. He enlisted in the U.S. Regular Army 1940-1945, served with the 63rd (Blood and Fire) Infantry Division, European Theatre and was discharged at the rank of technical sergeant after five years in the medical department.
Resuming an academic ascent, he was awarded his A.B. (suma cum laude) (49) from the College of Emporia, Kansas, A.M. History (50), and PhD (History) from the University of Missouri (55). Anders moved with his wife and two young daughters to Warrensburg to enter a career as a history professor at Central Missouri State College (now University of Central Missouri), attaining full professor in 1963.
Professor emeritus and author, Les followed 30 years in the classroom with another 30 years of writing and research. For 60 years he was a member of First Presbyterian Church of Warrensburg (with service as deacon, elder and clerk of the session).
His students numbered in the thousands from all majors but especially students of military history. In class, Anders acted out the roles of generals and statesmen, citizens, soldiers, and scoundrels, re-enacting their words and moments with energy, accuracy and great humor. Throughout his life, Anders could usually remember not only each student's name, but their grades and seating choices in his classrooms.
Anders was the author of seven books including "The Ledo Road" (University of Oklahoma, 1965); "The Eighteenth Missouri" (Bobbs Merrill, 1968); "The Twenty-First Missouri" (Greenwood, 1975); "Gentle Knight: The Career of Major General Edwin Forrest Harding" (Kent State University Press); and other books. Anders' works on the Civil War have been used as central sources for re-enactments of battles of that era.
A prolific correspondent, he composed manuscripts, class notes and letters at a manual typewriter with carbon copies. Typing at nearly 100 words per minute, untold thousands of pages of letters hold his astute conservative social commentary, sparkling humor, warm satire and wit. His letters have been collected and celebrated by family, colleagues, friends, acquaintances, reviewers, editors and former students the world over.
In the 1990s, as honorary Johnson County historian, he wrote a "­Centennial History of Johnson County Courthouse." He contributed to a radio conversation on KOKO called "Tidbits" – historical essays about Johnson County History.
Les was a frequent contributor of articles and reviews to Military Affairs, Military Engineer, Military Review, The Missouri Historical Review, Civil War History, Civil War Times Illustrated, Parameters, and others.
Honors include: Patriotic Award of Curtis-Warner Camp, Sons of Union Veterans of the Civil War (1975); Order of Mark Twain; Governor's Advisory Commission, Missouri Sesquicentennial (1971); Missouri American Revolutionary Bicentennial Commission (1974); Co. H, 17th Regiment, National Society of Scabbard and Blade (1972); Merit Award, American Association of State and Local History (1976); Author's Award, Missouri Historical Review (1975); First Allen Cook White Fellow, University of Missouri (1950); Trendholme Prize (best master's thesis, University of Missouri, 1950); Distinguished Faculty Award, College of Arts and Sciences, CMSU (1977); Distinguished Service Medical, State Historical Society of Missouri (1976); William H. Byler Distinguished Faculty Award, College of Arts and Sciences, CMSU (1987).
Survivors include daughters, Geraldine (Dee) Hunt, of Waverly and Charlotte Mary Anders, of Warrensburg; five grandchildren and eight great-grandchildren. He was preceded in death by Mardellya, his wife of 66 years and by his brother Lee.

Memorial contributions are suggested to the First Presbyterian Church or the Johnson County Historical Society and both can be left in care of the funeral home.