Sue Whitman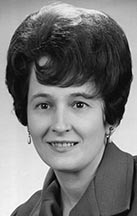 Sue Whitman, of Warrensburg, died Thursday, March 26, at St. Luke's Hospital in Kansas City, Missouri.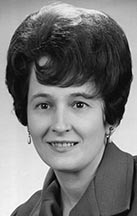 Funeral services will be held at 3 p.m. Tuesday, March 31, at the Sweeney-Phillips & Holdren Funeral Home in Warrensburg with the Rev. Richard Litle officiating.
Burial will follow at the Sunset Hill Cemetery.
The family will receive friends from 1:30 p.m. until service time at the funeral home.
She was born Aug. 8, 1935, in Chilhowee, Missouri, the daughter of Robert and Irene (Taggs) Bancroft. Sue was a 1953 graduate of Warrensburg High School and served as the director of public relations at Western Missouri Medical Center for 37 years. She was united in marriage to David Whitman in August 1953 in Johnson County. He preceded her in death in July 2006. She was a member of the first Baptist Church of Warrensburg, the Lady's Auxiliary branch of the Veterans of Foreign Wars, and was a past member of the American Business Women's Association. She was a loving mother, grandmother and great-grandmother. She loved cooking, reading, gardening and spending time with her family.
Sue is survived by two daughters, Cynthia Whitman, and her significant other, Mike Hancock, of Raytown; and Linda Bondon and husband, Tony, of Warrensburg; one son, Mike Whitman, of Wichita, Kansas; and her companion, Jay Lyle, of Warrensburg; four grandchildren; five great-grandchildren; and her best friend, Connie Johnson. In addition to her husband, she was preceded in death by her parents and one son, Dwight Whitman.
Memorial contributions are suggested to the Wounded Warrior Project and may be left in care of the funeral home.