UCM Theatre and Dance honored at Kennedy Theatre Festival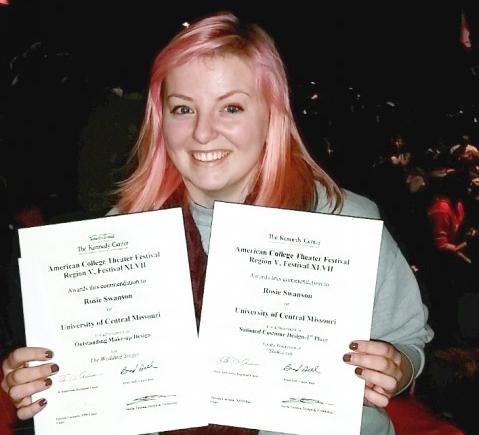 (WARRENSBURG, Mo.) — The University of Central Missouri Department of Theatre and Dance received several honors at the Kennedy Center American College Region V Theatre Festival held in Minneapolis, Jan. 19-25.
The festival included 80 universities and over 1400 faculty and students from theatre departments in Missouri, Kansas, Nebraska, Iowa, North Dakota, South Dakota, and Minnesota. The festival presents performances and scenes from invited productions from the top shows in the region and hosts acting, directing, design, playwriting, stage management, dramatic criticism and dramaturgy competitions. Six faculty members and twenty-six UCM students attended the event.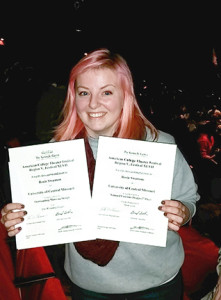 Rosie Swanson won first place in the National/Regional Costume Design competition and will receive an all expense paid trip to the Kennedy Center in Washington DC in April for the National Festival where she will compete for National Awards.
Rosie also received an Honorable Mention for her Makeup Design for "The Wedding Singer."
The Preliminary rounds of the Irene Ryan Acting Auditions included 340 students from around the region.
This was paired down to 64 students of which six UCM students advanced to the semi-final round. These students included Sarah Bronson, Brooke Myers, Kelsey Reinsfelder, Stepahnie Laaker, Kaelyn Whitt, and Katie
Turnbow.
Sarah Bronson and her acting partner Nellie Maple advanced to the Final Round of sixteen competitors.
The Stage Crew Showdown team consisting of Mark Jacobsen, Neal Bearden, Samantha Rudy and Rosie Swanson, were first in the preliminary round and received 2nd place in the Finals.
Taylor Hudson's Society of Stage Directors and Choreographers directing scene of A Streetcar Named Desire advanced to the semi- final round. His cast featured UCM actors Nellie Maple, Brooke Myers, Jessica Baxter, Arthur Clifford and Marisa Perry.
Students and faculty also received Meritorious Achievement awards which included Julie Mollenkamp, Connor Bush and Taylor Jennings for Direction of Kindertransport; Jeff Peltz for Lighting Design of Julius Caesar; Rachael Conroy for Sound Design of Julius Caesar; Mark Jacobsen for Scenic Design of Barefoot in the Park; and Sarah Clifton for Makeup and Hair Design for Barefoot in the Park.