Mary Virginia Yoder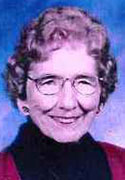 Mary Virginia (James) Yoder, 90, of Marshall, Missouri, formerly of Chilhowee died on Jan. 19.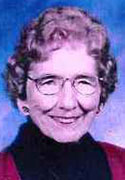 Funeral services will be 2 p.m. Saturday, Jan. 24, at Williams Funeral Chapel in Warrensburg with Pastor Louie Lowe of First United Methodist Church in Warrensburg officiating. Interment will follow in Pisgah Cemetery north of Chilhowee.
The family will receive friends from 1-2 p.m. Saturday at the funeral chapel.
Mary Virginia was born July 22, 1924, in Leeton, Missouri, a daughter of Lee W. and Mattie (Lamar) James. She married Donald F. Yoder on June 4, 1950, in Warrensburg. Mary is a graduate of Leeton High School and she received a master's in elementary education from Central Missouri State College. She taught in elementary schools in Johnson County at Flordonia, Magnolia, Farmer's, Holden and Lee''s Summit over a period of 39 years. She received a number of awards and honors during her many years of teaching.
Mary Virginia and her husband, Donald, lived and operated a cow-calf farm, which included land that had been in the family since 1889. The farm was awarded membership in the Missouri Century Farm Club. She was a member of Order of Eastern Star and several education organizations. Mary was also a member of First United Methodist Church in Warrensburg. For the past five and a half years, she had been a resident of the Living Center in Marshall.
She is survived by her brother, Kenneth E. James, of Normal, Illinois; brother-in-law and wife, John and Frances Yoder, of Holden, Missouri; sister-in-laws, Ruth Courtney, of Holden; and Lois Boyd and husband, John, of Marshall; and several nieces and nephews. She was preceded in death by her husband, Donald, on Aug. 7, 1998.
In lieu of flowers, memorial contributions are suggested to First United Methodist Church in Warrensburg.
Online condolences may be left at www.williamsfuneralchapel.net.