Glen E. Hennes
Chief Master Sgt.  Glen E. Henness, 84, of Warrensburg, Mo., died at his home Tuesday, Jan. 13.
He was born April 8, 1930, in Guthrie, Okla., the son of Otis G. and Luena J. (McCandless) Henness.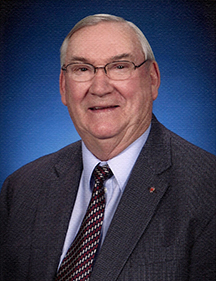 Memorial services will be held at 11 a.m. Saturday, Jan. 17, at Northside Christian Church in Warrensburg, Mo., with Pastor Sid Tiller officiating and full military honors will be provided by Whiteman Air Force Base Honor Guard. Pallbearers will be Dale McCain, David Rohde, Travis Snell, Matt Hiemenz, Ean Rohde and Larry Johnston.
Cremation is planned and a private burial will take place at a later date.
The family will receive friends from 10 a.m. until service time Saturday at the church.
On May 17, 1949, he was united in marriage to Della M. Johnston in Guthrie, Okla.
Glen served in the U. S. Air Force from 1949 to 1975, retiring as Chief Master Sgt. He was an aircraft mechanic assigned to the B-29, B-36 and B-52. Glen was later assigned to the Atlas, Titan and Minuteman Missiles.
Glen graduated from Central Missouri State University with a BS degree in Public Services – Industrial Safety. Upon graduation he worked as an insurance inspector for Traveler's Insurance and CNA. Never truly retiring, he continued working for the Johnson County Assessor's Office and Pertle Springs Golf Course for several years each. Glen was a member of the Northside Christian Church in Warrensburg, MO, the Masonic Lodge, the National Rifle Association and the Whiteman Chief's Group. He was a deacon and served on many committees at Northside Christian Church. Glen was a Past Master of Corinthian Lodge #265 in Warrensburg, Mo., a member of the Ararat Shrine Temple in Kansas City, Mo., and was very active in the York Rite Masonry. He was an avid golfer, fisherman, sports enthusiast and prankster.
Glen is survived by his wife of 65 years, Della;
his children: Pam Thompson (Keith) of La Monte, Mo.; and Kimberly Potter (Ken) of Andover, Kan.; his five grandchildren: Heather McCain (Dale) of Hill Air Force Base, Utah; Erin Rohde (David) of Whiteman Air Force Base, Mo.; Erica Pizzola (Stephan) of San Angelo, Tex.; Krystal Snell (Travis) of La Monte, Mo.; and Kayla Hiemenz (Matt) of Wichita, Kan.; and his great-grandchildren: Ean and Ashtyn Rohde, Cadin and Camryn Pizzola, and Harrison and Allis Snell.
He was preceded in death by his parents and one brother Jackie G. Henness.
In lieu of flowers, memorial contributions are suggested to Wounded Warrior or the American Diabetes Association and both can be left in care of Sweeney-Phillips and Holdren Funeral Home in Warrensburg, Mo.