Council supports armored vehicle in face of citizen opposition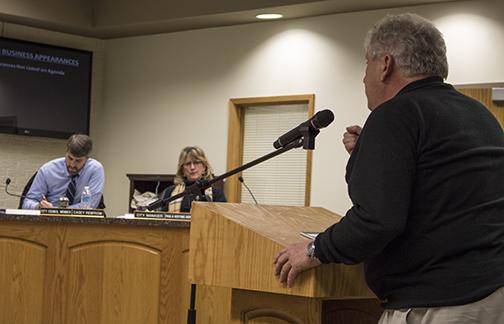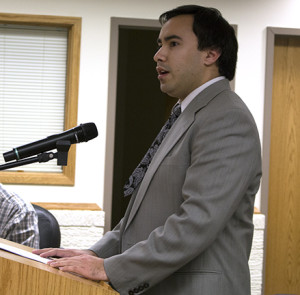 By ROB CURRY
(WARRENSBURG, Mo., digitalBURG) – Members of City Council expressed their support Monday for the Warrensburg Police Department's application for a mine-resistant-armor-protected vehicle, known as an MRAP, in response to a group of concerned citizens opposed to the idea.
Police Chief Bruce Howie told a digitalBURG reporter the MRAP would be used to protect citizens and police in active-shooter situations.
A group of more than 10 citizens gathered at the council meeting to express opposition to the MRAP, but after 2 1/2 hours only three remained when the council invited organizer Mike Watts and another citizen, Bob Yates, to speak.
"It sends the wrong message to the community, with the local governments being viewed as occupational forces rather than civilian agencies," Watts said.
Watts was concerned about the cost of maintaining the vehicle, training for use, and housing the vehicle.
To better protect city police, Watts suggested improving their wages and benefits.
"The last thing we want them to be worried about is making ends meet at home or the health care of their own family," he said.
Yates, professor of English at UCM, said the vehicle might change how the citizens of Warrensburg view their police. He asked the council if they believed Warrensburg was really dangerous enough to warrant acquiring the vehicle.
Three more speakers were called to present, but they had left.
Mayor Donna DeFrain prepared to conclude the speakers' appearances, thanking them for sharing their thoughts when Councilmember Casey Renfrow requested to respond.
Renfrow said the decision was not made lightly. He supported acquiring the vehicle to prepare police for the unknown.
"We do have a military base that is a global strike force," he said. "Just in my assumption this area could be a high target on a terrorist organizations list. We don't know that. I'm not saying we are.
"It's not to be used in a parade, it's not to be used in advertisement, it's not to bolster exactly what our police department can do, but it's there to protect their lives."
Yates compared the theoretical attack or hostage situation to the recent hostage situations in France.
"The town where the two brothers were was a population of 10,000. That was not a local police force (response), that was a national force," Yates said.
He asked if the council believed the Warrensburg Police Department would likely confront that kind of hostage situation.
Renfrow answered, "No I don't, but I do believe they would be a first responder, and in a vehicle like that, they would be protected."
Councilmember Baird Brock said he defers to the professional judgment of the police, praising the force's training and professionalism.
"It is important that we get the advice of the police, but you are our elected officials, and to defer your decision ignores your important responsibility as our elected officials," Yates shouted in response.
Brock concluded, "I am glad to be part of the decision. I support the decision."
The Police Department applied for the armored vehicle through the defense Logistics Agency's 1033 Program authorized by the National Defense Agency Act of 1990, according to a previous article in digitalBURG. The program allows federal and state agencies to acquire excess Department of Defense property. Congress extended this opportunity to include all law force agencies in the National Defense Agency Act of 1997.