Reba Elizabeth Hampton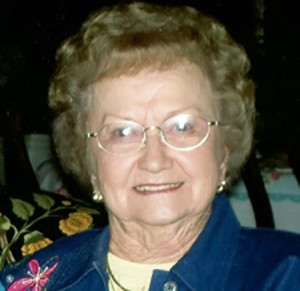 Reba Elizabeth Hampton, 91, of Warrensburg, Mo., died Friday, Jan. 9, at Warrensburg Manor Care Center.
Funeral services will be held at 11 a.m. Tuesday, Jan. 13, at Sweeney-Phillips & Holdren Funeral Home in Warrensburg with the Rev. Louie Lowe officiating. Pallbearers will be Bill Hoeper, Chris Jenness, Ryan Jenness, Stacen Jackson, Garrett Hoeper and Zachary Ikerd.
Interment will follow at Warrensburg Memorial Gardens.
The family will receive friends from 10 a.m. until service time Tuesday at the funeral home.
She was born July 9, 1923, in Paragould, Ark., the daughter of Roy and Willie Ellen (Pannell) Miller.
On August 24, 1942, she was united in marriage to W.O. Hampton in Paragould, Ark. He preceded her in death on Sept. 2, 1994.
Reba loved gardening, working with flowers and enjoyed quilting. She loved her family and spending time with them. Reba was a member of the First United Methodist Church, a member of the church quilters and a member of the Thurman Rambler Camping Club.
Reba is survived by four daughters, Mary Foster, of Lee's Summit, Mo.; Connie Hoeper, of Centerview, Mo.; Sue Jenness and husband, Ron, of Lee's Summit; and Billie Jackson and husband, Steve, of Lone Jack, Mo.; seven grandchildren, 12 great-grandchildren and one great-great-grandchild.
She is also preceded in death by her parents; two brothers, Milton and Gus Miller; and three sisters, Juanita Owens, Louise Hart and Fairy May Nelms.
Memorial contributions are suggested to the First United Methodist Church Mission Team and can be left in care of the funeral home.