UCM student killed in accident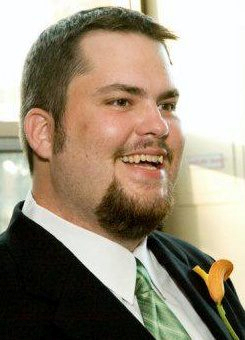 Brandon M. Morrow, 27, of Warrensburg, died Sunday, Sept. 23.
He was traveling eastbound in the westbound lanes of US 50 when he traveled over a slight hill crest in the road and struck another vehicle head-on.
The second vehicle was carrying Zaya L. Brooks, 21, Sevillya G. Hudson, 19, and Toni R. Nelson, 18, all of Lee's Summit, Mo.
The three women were transported to Centerpoint Hospital and Research Hospital and were all in serious condition.
Brandon was not wearing his seatbelt, and was pronounced dead at the scene.
Brandon was born Feb. 9, 1985 in Abilene, Texas, the son of Michael and Cheryl (Irwin) Morrow.
He moved with his family to Warrensburg from San Diego, Calif., when he was nine years old. He graduated from Warrensburg High School in 2003.
He earned his associate's degree from State Fair Community College in Sedalia, and he was a current student studying business administration at the University of Central Missouri.
He was a manager at the Warrensburg Pizza Hut and had been a manager at Bodie's on Pine Street.
Those who knew Brandon well knew of his quirky, dry sense of humor. He loved being outdoors and enjoyed camping, cooking outdoors and rafting. He was also an avid reader.
He is survived by his parents, Michael and Cheryl; one brother, William James (B.J.), all of Warrensburg; grandparents, James and Marjorie Morrow, of Kerrville, Texas; grandmother, May Marie Irwin, of Loveland, Colo.; several aunts, uncles, cousins and many friends.
He was preceded in death by his maternal grandfather, William Irwin Jr., three years ago on the same date.
Funeral services were Thursday, at Northside Christian Church in Warrensburg with the Rev. Sid Tiller officiating.
Interment  followed at Sunset Hill Cemetery.
In lieu of flowers, memorial contributions are suggested to the Brandon M. Morrow Memorial Fund with checks made payable to Northside Christian Church and can be left in care of Sweeney-Phillips & Holdren Funeral Home in Warrensburg.