Harold Alvin Shanks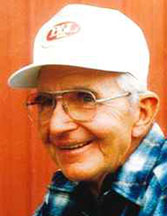 Harold Alvin Shanks, 102 of Centerview, Missouri, died Tuesday, Dec. 9, at the Warrensburg Veterans Home.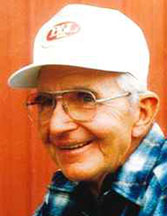 Harold was born Aug. 20, 1912 on a farm near Warrensburg, Missouri, the son of Albert A. and Julie V. (Luther) Shanks. Following graduation from Centerview High School, he worked in Idaho for a brief time. He enlisted in the United States Army in 1942 and served during World War II. Following Harold''s discharge from active duty, he was united in marriage to Ruberta Fern Johnson on April 17, 1949, in Warrensburg. He farmed near Centerview for many years. In retirement, Harold was active in woodcrafts. He was a member of Woods Chapel United Methodist Church.
Survivors include two sons, Gary Shanks of Centerview; and Mark Shanks and wife, Barbara, of Centerview; 11 grandchildren, Brandon Shanks of Centerview; Brent Shanks and wife, Stephanie, of Centerview; Shelli Brooks and husband, Joe, of Oak Grove, Missouri; Devin Shanks and wife, Katrina, of Centerview; Angie Flick and husband, Tom, of St. Charles, Missouri; Scott Shanks of Warrensburg; Drew Shanks and wife, Laura, of Centerview; Kerri Hanrahan and husband, Josh, of Gonzales, Louisiana; Tracey Shanks of Centerview; and Leah Shanks of Warrensburg; 17 great-grandchildren; several cousins in Idaho and nieces and nephews. He was preceded in death by his wife, Ruberta, and a brother, Leeo Shanks.
Funeral services were Sunday, Dec. 14, at Williams Funeral Chapel in Warrensburg with Pastor Tim Biesemeyer officiating. Interment followed at Sunset Hill Cemetery with military honors provided by Warrensburg Veterans of Foreign Wars, Post 2513, and American Legion, Post 131. Pallbearers were Brent Shanks, Joe Brooks, Devin Shanks, Tom Flick, Scott Shanks, Drew Shanks, Todd Shanks and Josh Hanrahan.
Memorial contributions are suggested to the Warrensburg Veterans Home.
Online condolences may be left at www.williamsfuneralchapel.net.