Harold Alden 'Mac' McClure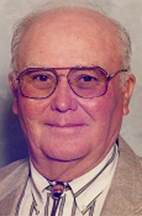 Harold Alden "Mac" McClure, 90, of Warrensburg, Missouri, died Monday, Nov. 10, at the Missouri State Veterans Home in Warrensburg.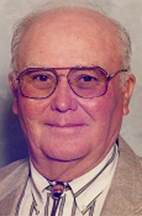 Private graveside services will be held at the Missouri State Veterans Cemetery in Higginsville, Missouri, with full military honors provided by the Warrensburg American Legion Post 131, VFW Post 2513 and the Patriot Guards.
He was born Aug. 15, 1924, in rural Montgomery County, Kansas, the son of Leo Plato and Olive (Bear) McClure.
He was united in marriage to Bobbie Jean Johnson on July 3, 1947, in Crockett, Texas. She preceded him in death on Feb. 26, 2006.
Mac graduated from of Caney High School in Caney, Kansas, class of 1942. During his high school years, he was known as a gifted athlete and did well in his studies. Mac played on the varsity football team, where he played quarterback and defensive back. He also played forward and guard on the varsity basketball team. Mac was awarded a full four-year football scholarship to Oklahoma University but turned down the opportunity to serve his country. He joined the U.S. Army, serving three tours fighting on the front lines in Italy, Paris, Normandy, Africa and the Pacific during WWII. After the war, Mac returned to Panhandle Eastern Pipeline Company, performing bulldozer and excavation work. He had started working with the company in his early teens, hand digging ditches and learning to operate all of their equipment. Mac and Bobbie traveled all over the lower 48 states, pulling their trailer home to work on pipeline jobs for the next 11 years. They then bought a farm southeast of Warrensburg, raising Hereford and Simmental cattle, and raising their three daughters. Mac started traveling overseas, working on pipeline construction all over the world for the next 25 years as an engineer and retired as general foreman for Willbros Pipeline Construction in 1986. He was known as a "Jack of all trades" and could build, repair or modify anything he set his mind to. Mac's neighbors knew if they needed any help with their farms, livestock, or equipment, they could count on Mac to assist them. He started working with livestock at age 3 when his father had him leading and working with their team of Missouri Read mules on their farm in southeast Kansas. Mac was a loving husband, father, grandfather and great-father.  He will be missed by his family, friends and neighbors.
Mac is survived by his three daughters, Marla Jean Kirkpatrick and husband, Larry, of Kansas City, Missouri; Jonelle and Robin McClure, both of Warrensburg; his granddaughter, Brea Anne Worthington and husband, Aaron; and his two great-grandchildren, Emma Grace and Bowen James Worthington, all of Warrensburg; and one brother, William J. McClure of New York, NY.
He was also preceded in death by his parents; one brother, Leo P. McClure; and one brother in infancy.
Memorial contributions are suggested to the Missouri Veterans Home in Warrensburg and can be left in care of Sweeney-Phillips & Holdren Funeral Home in Warrensburg.