'Grow Missouri' blimp lands at Skyhaven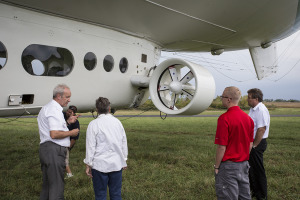 Editor's Note:The previous version of the story included an incorrect reference to the Goodyear Blimp. 
By ROB CURRY
(WARRENSBURG, Mo., digitalBURG) – A large blimp descended on Skyhaven Airport Wednesday with the message: "#GrowMO."
The Grow Missouri program is a conservative political coalition advocating cutting state income taxes and reducing state government regulations. Grow Missouri invited members of the Warrensburg Chamber of Commerce and the public to tour the 200-foot-long and 60-foot-wide GrowMO blimp and share their ideas for economic growth. Groups gathered for the shuttle vans Wednesday afternoon under dark skies.
Tours of the airship were conducted between torrential downpours. Two crew members led the tour: David Burnes, from the United Kingdom, and Mats Backlin, of Elizabeth City, N.C., originally from Sweden.
Burnes led guests inside the blimp, to see the control deck, six-seat cabin and feel the buoyancy of the craft as it swayed gently with the wind. He said the electric generator allowed the ship to maintain constant pressure and resist turbulence.
Ann Houx of Warrensburg asked from inside the blimp, "What happened to the Hindenburg?"
"It had hydrogen, and there was an explosion of some sort. This craft is filled with helium," Burne explained.
During the tour, the airship was firmly tethered to the ground. Houx asked if they didn't fly when it's windy.
"We do mostly advertising, so we don't (fly) because if the weather's bad people aren't out."
Mats Backlin said that a lightning strike can damage the electronic systems and even put a hole in the ship, but would not make the ship explode.
"I was watching you guys come in, and it was very cool, and so crazy to see," said University of Central Missouri flight instructor Matt Fischer, 25.
Fischer called ahead for a Skyhaven escort vehicle to guide the tour back across the runway safely from the field where the GrowMO blimp towered.
Grow Missouri is touring the state collecting stories and ideas from taxpayers, then share those ideas with members of state government, according to their website at http://www.growmissouri.com/the-solution/. More information about Grow Missouri is available there.