Patricia Helen Roop Castle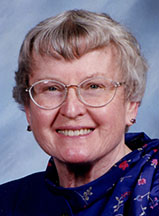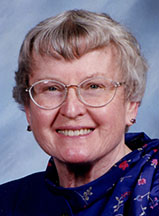 Patricia Helen Roop Castle, 85, of Warrensburg, Missouri, died Monday, Sept. 1, at her home.
A memorial service will be held 3 p.m. Friday, Sept. 5, at First Presbyterian Church in Warrensburg with Pastor Heather Jepsen officiating.
The family will receive friends at 2 p.m. in the sanctuary. A celebration of Patricia's life will follow the service in the church's social hall.
Burial will be in the Abilene, Kansas, cemetery on Saturday, Sept. 6.
Patricia was born March 4, 1929, in Bartlesville, Oklahoma, the daughter of Charles William Roop and Harriet Enid Penney Roop. After Harriet's death, she was loved by her second mother Madge Bitler Roop, affectionately known as Maggie.
She was united in marriage to Conan Jennings Castle on March 17, 1951, in Wichita, Kansas.
As a youngster, Patricia was active in Girl Scouts and enjoyed violin. Following graduation from Wichita High School East in 1947, she attended Doane College for two years, Wichita State University for one summer, and received her bachelor's degree in elementary education from Northwestern University in 1951. In 1969, she completed a Master of Science degree in library science from Central Missouri State University. Her teaching career included 1 1/2 years at the elementary school at Anshe Emit Synagogue in Chicago, Illinois, one year at Ridgeview Elementary School in Warrensburg and 19 years as librarian at Whiteman Elementary School at Whiteman Air Force Base in Knob Noster, Missouri.
Patricia was raised in the Congregational Church, attended the First Christian Church (Disciples of Christ), and for many years was a member of First Presbyterian Church where she was ordained a deacon and an elder, sang in the Chancel Choir, was active in Brown Bag Bible Study, and served on many committees. She was a 50-plus year member of Chapter HW of P.E.O.
Patricia and Conan traveled widely, camping with their three children in the United States and Canada, and in 1970 for two months in Europe. Subsequent travels took them throughout the United States and to Asia, Africa, Central and South America, and Europe, including many visits to Patricia's beloved Wales.
Patricia was an expert gardener and a gourmet cook who believed in serving a wide variety of food in moderation. She found beauty in all that she did – the glimpse of a new blossom, the aroma of a busy kitchen, the quiet of a book. She was always game for a new adventure and had an impish sense of humor. She loved her husband of 63 years and the rest of her family fiercely and loves them still. She will be greatly missed.
Survivors include her husband, Conan, of the home; three children, Randall Castle and wife, Jan, of Lee's Summit; Carolyn Gordanier and husband, Ron, of Blue Springs; and Bruce Castle and wife, Mary, of Albuquerque, New Mexico; two sisters, Martha Craig of Fenton, Missouri; and Suzanne Gardner and husband, Wayland, of Kalamazoo, Michigan; seven grandchildren, Ross Banta of Kansas City; Lance Banta and Bryce Banta of Blue Springs; Nicholas Castle of Westford, Massachusetts; Adam Castle of Lee's Summit; and Emily Castle and David Castle of Albuquerque; eight great-grandchildren, Derek, Grace, Dezeray, Penelope and Charlotte Banta; and Wesley, Casey and Liam Castle.
Patricia was preceded in death by her parents.
Memorial contributions are suggested to First Presbyterian Church in Warrensburg and may be left in care of the Sweeney-Phillips & Holdren Funeral Home in Warrensburg.