UCM furniture bound for Afghanistan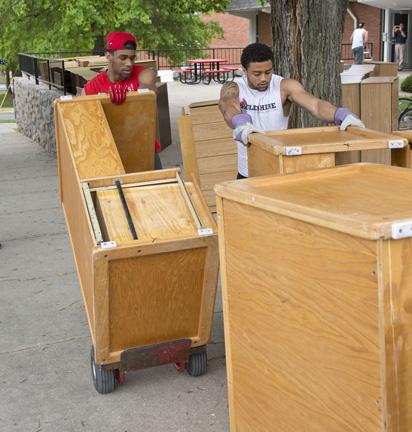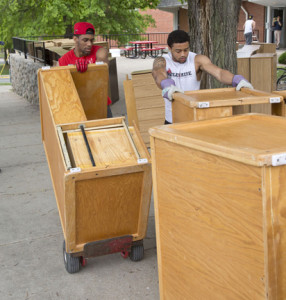 (WARRENSBURG, Mo.) – Children in Afghanistan are receiving a little boost from the University of Central Missouri as housing staff collaborated with two organizations this month to send 1,932 pieces of residence hall furniture to orphanages there.
This was the sixth consecutive year UCM has worked with the Institution Recycling Network in Concord, N.H., to find new homes for residence hall furniture that is being updated on campus, according to a news release.
"We take furnishings from institutions of higher learning, colleges, universities, what have you, and send them overseas for reuse purposes," said IRN representative Stacey Clark. "About 85 percent of what comes from the university will go overseas and the rest stays in the United States."
Clark said the furniture is offered on a first-come, first-served basis to a number of charities that work with individuals in need worldwide. As part of this effort, Ayman Aburahma, head of the emergency response team for Life Relief and Development in Southfield, Michigan, is working with IRN to provide furniture items to help orphans in Afghanistan. Some furniture also is going to a Native American reservation in New Mexico.
Several members of the Mules football team helped with the heavy lifting to move the furniture.
While working with representatives of IRN and UCM the week of May 19-23, Aburahma unrolled a large vinyl sign for the members of the Mules football team sign, which will be displayed at an orphanage that receives the shipment of furniture from Central Missouri.
"I love the good spirit they have," Aburahma said about the Mules' team members. "When they find out the furniture is going to orphanages, you see them doing it (helping) from their hearts. They love what they do and I appreciate that."
Brenda Moeder, director of housing operations and facilities, said donating the furniture to charities completes a furniture replacement initiative this spring that includes South Yeater, South Todd, and Diemer residence halls, as well as a wing of the Fraternity Complex.
She said members of the Mules football team and other student workers were recruited to assist in the project by Facilities, Planning and Operations. Moeder said students also will get involved in additional furniture replacement and donation efforts in the next few months.
She said housing will be replacing lounge furniture this summer in Ellis Hall, South Yeater and the University Conference Center.
"So we will be partnering with IRN again for another load-out," Moeder said.