David V. Pearson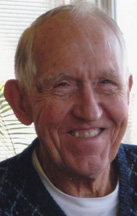 David V. Pearson, 84, of Warrensburg, Mo., died Wednesday, Dec. 18 at the Missouri State Veterans Home.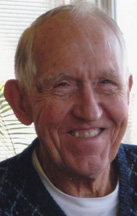 Funeral services will be held at 10 a.m. Monday, Dec. 23 at Sacred Heart Catholic Church in Warrensburg with Father Joseph Miller officiating. Pallbearers will be Robert Hake, Matthew, Eric, Mark, and Dane Pearson.
Entombment will follow at Warrensburg Memorial Gardens Mausoleum with full military honors provided by Whiteman Air Force Base Honor Guard.
The family will receive friends from 6 to 7:30 p.m. Sunday, Dec. 22 at Sweeney-Phillips & Holdren Funeral Home in Warrensburg, with prayer service at 6 p.m.
He was born in Coronado, Calif., the son of Victor E. and Dorothy (Stephenson) Pearson.
He was united in marriage to Maxine M. Warila on Aug. 17, 1952, in Butte, Mont.
David graduated from San Louis Obispo High School, San Luis Obispo, Calif., in 1947.  He attended the Montana School of Mines and Mineral Technology, and participated in the Air Force ROTC.  Upon graduating in 1953 with a Bachelor's Degree in geological engineering, he entered active duty in the Air Force.  David had a long career in the Air Force and traveled with his growing family from Montana, all over the country and to Japan.
While on active duty, he acquired a Master's Degree in geological engineering from the South Dakota School of Mines in Rapid City.  David went on to serve 26 years in the Air Force, retiring in 1979 with the rank of lieutenant colonel.
David was very interested in gardening and landscaping. Every home lived in was beautifully landscaped. He had a great artistic sense and explored many mediums from painting to woodworking to photography. His home in Warrensburg particularly showed his love of gardening. After retiring from the Air Force, he decided to put his interest and skills into growing things and bought an old farm. Blueberry Hill Farm in Montserrat, Mo., blossomed under his care. The farm's focus was grapes and "u-pick" berries. Folks traveled from far away to pick his blueberries, grapes, blackberries and other fruit and berries.
Somehow he found the time to also continue his education and he obtained a Specialist Degree in safety and a Master's Degree in agriculture from Central Missouri State University. Mr. Pearson was a member of the Sacred Heart Catholic Parish of Warrensburg, the Master Gardeners of Johnson County, as well as more than 2,000 hours as a volunteer at Powell Gardens.
David is survived by his wife Maxine; six children, Karen Knight of Tacoma, Wash.; Kristine Pixler and husband, Gary, of Platte City, Mo.; Mark Pearson of Woodbridge, Va.; Kathie Hake of Raytown, Mo.; Eric Pearson and wife, Cindy, of Kansas City, Mo.; and Dave Pearson of Plano, Texas; one brother, John Pearson and wife, Beverly, of Camarillo, Calif.; one sister, Carol Rovai and husband, Tom, of Redding, Calif.; 12 grandchildren, Aubrey, Robert H., David, Robert P., Adam, Angela, Matthew, James, William, Jennifer, Alexandria and Zachariah; and one great-grandson, Jordan.
He was preceded in death by his parents.
Memorial contributions are suggested to the Sacred Heart Parish or the Missouri State Veterans Home in Warrensburg and both can be left at the funeral home.