Paula Sue (Martel) Rumsey
Paula Sue (Martel) Rumsey, 49, of Warrensburg, Mo., died Thursday, Nov. 28 at home.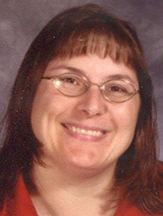 A funeral will be held at 10 a.m. Saturday, Dec. 7 at Sweeney-Phillips & Holdren Funeral Home in Warrensburg with Pastor Brian Classen officiating. Pallbearers will be Jim Martel, Bob Martel, Terry Hazelrigg, Charlie Moyer, Andrew Martel, Jared Cogan, Jason King and Patrick Kielty. Honorary pallbearers will be Raymond Martel, Michael Martel, Brian Harris, John MacWilliam, Jason Hale, Matt Denhan, Cody Compton and Craig Compton.
Graveside services will follow and be held at 12:30 p.m. Saturday at Blue Springs Cemetery in Blue Springs, Mo.
The family will receive friends from 6-8 p.m. Friday, Dec. 6 at the funeral home.
She was born Aug. 23, 1964, in Independence, Mo., to Raymond and Pauline Martel.
She was united in marriage to Tim Rumsey on June 29, 1991.
Paula graduated from William Chrisman High School in 1982 and earned a liberal arts degree in 1987 from Longview Community College in Lee's Summit, Mo. She received her Bachelor of Science in education in early childhood from Central Missouri State University in May 1989, and later also received her Masters of Education degree from CMSU. Paula was hired in 1989 with the Warrensburg R-6 School District where she taught elementary school for more than 22 years. She was the district coordinator and a Head Start teacher for the Head Start Program in Warrensburg. She taught Title 1 preschool at Reese Elementary School, and taught kindergarten at both South East Elementary and Ridge View Elementary schools. Paula was involved in school functions, such as the MSTA. Paula loved teaching and watching her students progress to young learners.
Paula is survived by her husband, Tim; and her children, Katelyn and Calvin Rumsey, all of Warrensburg; two sisters, Pauline Moyer of Lone Jack, Mo.; and Patty Hazelrigg of Blue Springs; three brothers, Jim Martel of Independence, Mo.; Bob Martel of Lee's Summit; and Raymond Martel of Stockton, Mo.