Diane Kay Stuckenbroker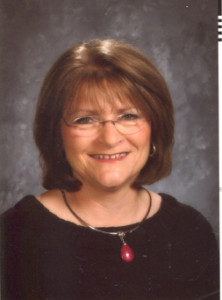 Diane Kay Stuckenbroker VanDeWiele, 64, of Warrensburg, Mo., died on Saturday, Sept. 28, after a five and a half year battle with breast cancer.
Funeral services will be held at 10 a.m. Saturday, Oct. 5, at Sacred Heart Catholic Church in Warrensburg, Mo., with Deacon Bob Leake and Father Joseph Miller officiating.
Burial will follow the funeral on Tuesday, Oct. 8, at 10:30 a.m. at Saint Joesph's Catholic Church in Jasper, Minn., with Monsignor Kosse officiating.
Visitation services will be held from 6 to 8 p.m. Friday, Oct. 4, at Sweeney-Phillips & Holdren Home in Warrensburg, Mo.
In lieu of flowers, memorial donations may be given to Johnson County Cancer Foundation, P.O. Box 555, Warrensburg, Mo.
Diane was born June 2, 1949, in Luverne, Minn., the daughter of Henry and Doris (VanLeirsburg) Stuckenbroker.
Diane was married to Robert "Bob" L. VanDeWiele on June 27, 1970.  They were married 43 years and had three children and five grandchildren.
Diane went to a country school for the first three years of school and then graduated from Jasper High School. Diane started college at Southwest Minnesota State University, and continued on to receive an Elementary Education Degree from Mankato State University in Mankato, Minn. She received her Master's in Elementary Education from William Woods University. Diane worked as a teacher at St. Mary's Elementary in Tracy, Minn.; Jasper Public Schools; St. Mary's Catholic School in Sioux Falls, S.D.; and the longest at Martin Warren Elementary for 25 years. She enjoyed gardening and spending time with family and friends.
Diane is survived by her husband, Bob; children, Katherine "Katie" Jo Blatt, Kristin "Kristi" Lynn Cantu, and Patrick Robert VanDeWiele; their spouses, Ryan Blatt, Elias Cantu, and Mary Caitlin "Cait" VanDeWiele; her grandchildren, Eden Lily Blatt, Vivian Khloe Blatt, Elliana "Ellie" KayLynn Cantu, Ethan Vidal Cantu, and Neely Anne VanDeWiele; her parents, Harry and Doris Stuckenbroker; her siblings, Nancy DeSchepper, Linda Paulson, and Larry Stuckenbroker; their spouses, Randy DeSchepper, Mark Paulson, and Linda Stuckenbroker and other family and friends.
Diane is preceded in death by her grandparents, Julius and Josephine VanLeirsburg, John and Elizabeth Stuckenbroker, and her mother- and father-in-law, Oscar and Rita VanDeWiele.
The family of Diane Stuckenbroker VanDeWiele wishes to thank KU Medical Center, Johnson County Cancer Foundation, and all of the friends that have helped throughout Diane's battle.