Alberta Hyter
Alberta Hyter, 90, of Warrensburg, died Sunday, Sept. 29, at the Kansas City Hospice House in Kansas City, Mo.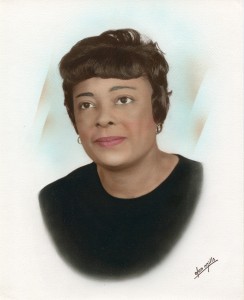 Funeral services will be held at 11 a.m. Saturday, Oct. 5, at Shiloh Missionary Baptist Church in Warrensburg with the Rev. Terrance Moody officiating.
Interment will follow at Warrensburg Memorial Gardens.
Friends may call after 9 a.m. until service time Saturday at the church under the direction of Sweeney-Phillips & Holdren Funeral Home in Warrensburg.
She was born June 12, 1923, in Montserrat, Mo., the daughter of Bertha E.  and Veoria (Visor) Hyter.
On April 5, 1941, she married Edwin Gale Hyter in Warrensburg. He preceded her in death on June 6, 2000.
Mrs. Hyter was owner and operator of a beauty salon she had in her home.  She was a member of the Shiloh Missionary Baptist Church in Warrensburg for more than 60 years, volunteering as an usher, and she loved cooking.
She is survived by her daughter, Tillie Cyrena Sallis and husband Elward of Kansas City, Mo.; three brothers, Walter Goodwin of Topeka, Kan., Bobbie Goodwin and wife Beatrice of Northwood, N.H., and Alfred R. Goodwin and wife Marjorie of Topeka, Kan.; two sisters, Mable Stevens of Warrensburg, Mo., and Betty Wilson of Chicago, Ill.; two grandchildren, Jeffrey Sallis and wife Kristine of Lee's Summit, Mo., and Julie Gray and husband Michael of Kansas City, Mo.; and five great-grandchildren, Blake and Taylor Sallis, Briana Korycki, Justin and Jewel Gray.