Aaron Podolefsky, former University of Central Missouri president and Buffalo State's eighth president, died Thursday surrounded by family members after a battle with prostate cancer.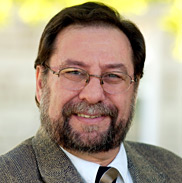 Dr. Podolefsky was president and professor of anthropology at the University of Central Missouri from 2005 to 2010, where he raised the university's academic profile, initiated strategic and master planning efforts, cultivated mutually enriching campus-community partnerships, enhanced regional economic development, and launched landmark energy savings and sustainability initiatives, according to a news release from Buffalo State.
UCM President Charles Ambrose said he and his wife, Kris, are keeping the Podolefsky family in their thoughts and prayers.
"Aaron touched a lot of students during his long career in education," Ambrose said in a news release. "But on a personal note, he was very hospitable and helpful to Kris and I when we came to Central Missouri, and we will always be grateful."
A funeral date is pending. Dr. Podolefsky was 67.
Dr. Podolefsky began as president of Buffalo State on July 1, 2010, a post he held until stepping down July 31 due to health issues.
"His commitment to Buffalo State, to Western New York, and to the public mission of our State University was unwavering," said Buffalo State Chancellor Nancy Zimpher in a news release from Buffalo State. "Under his leadership, Buffalo State realized a renewed commitment to the arts, community, diversity, and student life. I know that Interim President Howard Cohen will help to guide the campus through this difficult time, and continue Dr. Podolefsky's work in a way that honors his legacy."
During his three-year tenure at Buffalo State, Dr. Podolefsky the school opened a new Student Apartment Complex; phase one of the Science and Mathematics Complex; the renovation of Rockwell Hall's third floor; the renovation of the Campbell Student Union; and most recently, the new Technology Building, which will host classes this fall.
In fall 2011, Dr. Podolefsky extended Buffalo State's service to the community with the opening of the Community Academic Center.
"In his too brief time as our president, Aaron made numerous significant contributions," said Howard Reid, chair of the College Senate at Buffalo State, in a news release. "However, for his many friends at the college, what will be most sorely missed will be his more personal qualities, which everyone will agree included openness, support, energy, kindness, and his upbeat attitude."
Dr. Podolefsky previously served as provost and vice president for academic affairs (1998–2005) and dean of the College of Social and Behavioral Sciences (1990–1998) at the University of Northern Iowa.
He also taught and served as department head in Western Kentucky University's Department of Sociology, Anthropology, and Social Work (1986–1990). Prior to this, he was associate chair and tenured associate professor of anthropology at West Virginia University (1979–1986), and was a research associate for the Center for Urban Affairs and Policy Research at Northwestern University (1978–1979).
He was a three-time graduate of Stony Brook University, earning master's degrees in liberal studies ('73) and anthropology ('76) and a doctorate with distinction in anthropology ('78). Dr. Podolefsky also held a bachelor's degree in mathematics from San José State University ('68).
He was the author of numerous scholarly works, including books, textbooks, and articles. Dr. Podolefsky was a fellow of the American Anthropological Association, elected by the organization's executive committee in recognition of his significant contributions to the field of anthropology. His graduate field studies in anthropology took him and his family to the highlands of Papua New Guinea in the 1970s.
Dr. Podolefsky is survived by his devoted wife, Ronnie, and his two sons, Noah (Molly) and Isaac (Laura).
Messages of condolence may be sent to Ronnie Podolefsky and their sons, Noah and Isaac, at 152 Lincoln Parkway, Buffalo, New York, 14222.
Story continues below advertisement